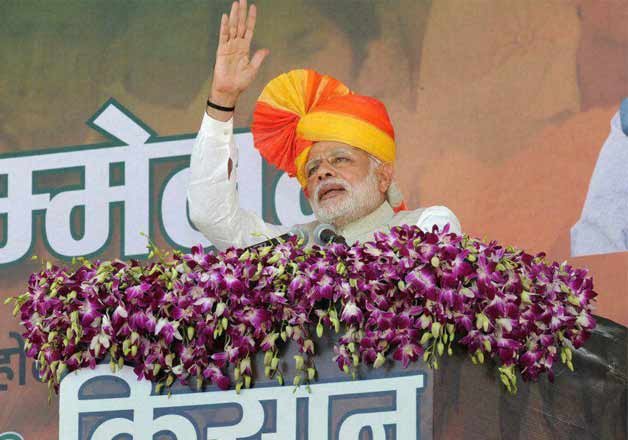 Bhopal: Prime Minister Narendra Modi on Thursday said his government aimed to provide the benefits of the 'Digital India' initiative to the country's farmers, for which a virtual platform of a national agricultural market is in the works.
Plans were also afoot to connect 550 farmer markets in the country through the use of technology, Modi said while formally launching the 'Pradhan Mantri Fasal Bima Yojana' at a farmers' rally in Sherpur in Sihore district of Madhya Pradesh.
Giving details of the programmes and schemes launched by the BJP-led central government for the farmers, he said the national agricultural market will provide a platform so that the farmers get the maximum price for their produce.
He pointed out that the prices of various farm produce varied in different markets in the country but the farmers sold their yield at the nearest available market.
This resulted in unremunerative prices to the farmers, which was sought to be redressed by the virtual platform of national agricultural market, Modi said.
The prime minister said the 'Digital India' initiative would also help the farmers by giving them access to information on the best price offered for farm produce on their mobile phones in an instant.
He said that the Prime Minister's Crop Insurance Scheme, launched by his government last month, will be a panacea for all problems faced by the farmers.
"Farmers did not believe in the crop insurance policies of the previous United Progressive Alliance government. It is the main reason that not even 20 percent farmers in the country opted for crop insurance. We have now come up with this scheme keeping in mind the lack of interest among farmers,"
Taking a dig at the previous UPA government at the Centre, the prime minister said that the earlier insurance schemes benefitted the companies and not farmers. He said the new crop insurance scheme will definitely benefit the farmers in the country.
The prime minister honoured Madhya Pradesh Chief Minister Shivraj Singh Chouhan with 'Krishi Karman' award. Modi was also felicitated on the occasion on behalf of the state's farmers.
The union cabinet in January gave its nod to the 'Pradhan Mantri Fasal Bima Yojana' in which premiums are as low as 1.5 percent.
A uniform premium of two percent of the sum insured will be charged from farmers for all kharif crops and 1.5 percent for rabi crops. The annual premium for horticultural crops will be five percent of the sum insured. The remaining insurance premium will be given by the government.