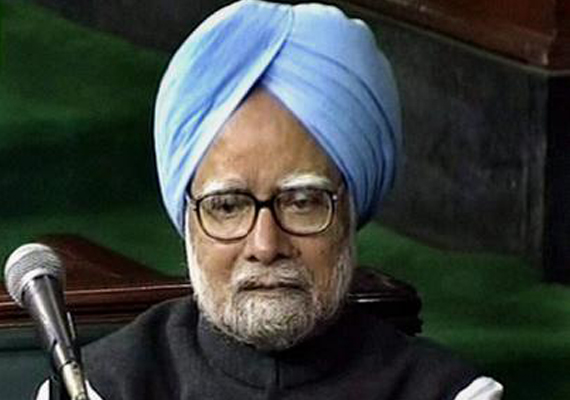 New Delhi, Aug 27: As BJP disrupted Parliament on the coal block issue, Prime Minister Manmohan Singh today attacked the party and dared it to have a debate in the House to let the country judge the truth.
Soon after he was disallowed to complete a statement he made in both Houses, he talked to reporters outside Parliament House, asserting that the government has a "strong and credible case" on the coal block allocations, which has come under criticism from the CAG.
"I am sorry that the House is not allowed to function and the BJP is determined to disrupt the proceedings of Parliament. I wish to assure the country that we have a very strong and credible case," Singh said.  The Prime Minister said his policy is to maintain silence on "motivated" issues but this is one occasion where he "ardently wished" that he should be given the opportunity to speak to Parliament and to the public at large.  Singh said the CAG's conclusions on the coal block allocations were "disputable".
"The observations of CAG are disputable and they will be challenged when the matter comes before the Parliamentary Accounts Committee," Singh said.
He argued that a debate should take place in Parliament and the country can judge where the truth lies.  "Once again I appeal to the Opposition to come back to the House to debate on these issues and let the country judge where the truth lies," Singh said.
He recited an Urdu couplet to drive home his point on his silence till now on the controversy.  "Hazaron jawabo se achchi hai Khamoshi meri, Na jaane kitne sawalo ki aabru rakhe." (My silence is better than a thousand answers, it keeps intact the honour of innumerable questions).
"KYA KOYLA GHOTALE MEIN PRADHANMANTRI KO ISTEEFA DE DENA CHAHIYE ?''  Cast your vote Y for yes, N for No,  in opinion poll by dialling 56060 (all operators)
.