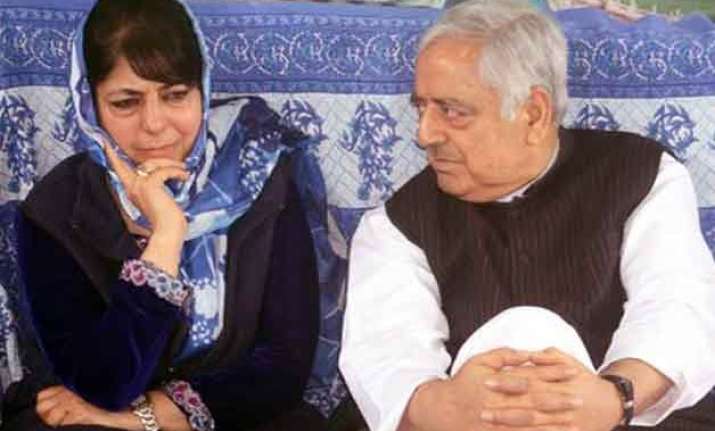 Srinagar: After giving a green signal for alliance with BJP to form a government in Jammu and Kashmir, PDP is yet to take another big decision – whether to join National Democratic Alliance (NDA) at the centre or not.
While the BJP is not opening its cards yet, PDP seems divided on the issue.
Nirmal Singh, a senior BJP leader who is slated to become deputy chief minister told Economic Times, "Honestly, I don't know and I think the party president and the prime minister must be knowing".
He confirmed that the government formation in J&K is in the final stage as both the parties have agreed on contentious issues.
Two key PDP leaders, on condition of anonymity confirmed to Indian Express that there is absolutely no possibility of joining the Modi government. They said that it will be like the same way they dealt with the suggestion during UPA's time when there were pressures to join.
One of the leaders said," We did not join and we are repeating this with the NDA as well".
They acknowledged that in the wake of the alliance, a lot of pressure within the party will have to be managed.
Two MPs - Muzaffar Hussain Beig and Tariq Hameed Karra - are said to be keen on the PDP joining the NDA so that the state gets a fair share in the central government as well. 
A section of the PDP is in favor of the idea of party president Mehbooba Mufti joining Modi cabinet for some years however, she is totally averse to it. She has never been part of the government even after being elected to the state assembly thrice and to the Lok Sabha twice. 
According to PDP spokesperson Naeem Akhtar, the two parties are giving final touches to the Common Minimum Programme and a new government is likely to be sworn in on Saturday.
PDP and BJP took almost two months to overcome differences over three major issues - revoking the AFSPA, Article 370 of the Constitution granting special status to J&K and the plight of West Pakistan refugees.
As per the IE report, While BJP agreed to use "respecting and upholding constitutional guarantees" instead of Article 370, PDP was "satisfied" with the creation of a "review" committee comprising officials from the central and state governments with the stakeholders on AFSPA, with no timelines. PDP also agreed that it understands the West Pakistan refugees issue is a "humanitarian" one.