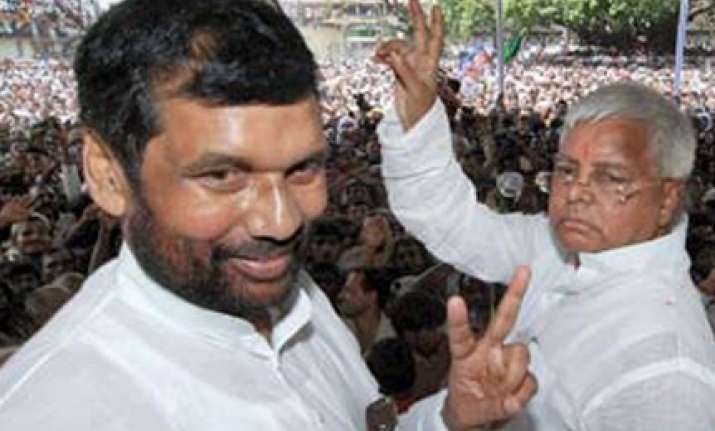 With the Congress decision on poll understanding in Jharkhand pending, LJP president Ramvilas Paswan on Sunday in Patna asked AICC president Sonia Gandhi to form a secular alliance with the RJD-LJP front, JMM and JVM of Babulal Marandi to keep communal forces at bay.
 "The Congress president should intervene and bring together all the like-minded parties," he told reporters here adding he would himself discuss the issue with the state-level Congress leaders and the in-charge of its state affairs.
 Paswan said he would personally hold talks with RJD chief Lalu Prasad, JMM chief Sibu Soren and Marandi and discuss possibilities of launching the alliance.
The alliance would be strong and viable enough to prevent the BJP-led NDA from coming to power besides providing a stable government for the people of the state, particularly tribals who had been subjected to "immense sufferings" due to political instability, he said.
The LJP chief said he would send a team of his party leaders led by its Dalit Morcha national president Ramchandra Paswan to Jharkhand to identify seats where the party has strong presence for discussing seat-sharing with RJD and other parties willing to join the front.
He had also called a meeting of senior LJP leaders in New Delhi on November 30 to discuss the strategy for Jharkhand polls. PTI