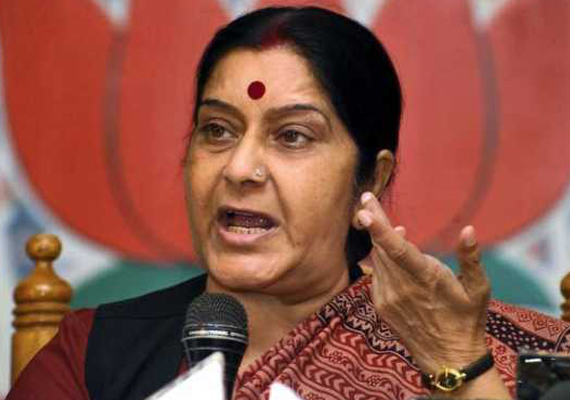 Mumbai/Bhopal, Sep 2: Relenting a bit, BJP today agreed to allow a discussion in Parliament on Coalgate provided Government cancelled coal licenses and ordered an independent probe into the allotments.  However, the party made it clear that it will stick to its demand for Prime Minister Manmohan Singh's resignation on the issue.
BJP, which has disrupted Parliament for most part of the Monsoon session insisting that it will not allow the two Houses to run if the Prime Minister does not step down, toned down a little.
Addressing a press conference in Mumbai, Leader of Opposition in the Lok Sabha
Sushma Swaraj
said when
Sonia Gandhi
spoke to her, she had made it clear that coal block allocations must be cancelled and an independent probe ordered.
"I told Soniaji that coal block allocations be cancelled and an independent and fair probe ordered. "If you agree to both these demands, then we can start the discussion and Parliament can function," Swaraj said. 
Swaraj's comments came against the backdrop of BJP facing isolation with several parties including the Left, Samajwadi Party, TDP and some others insisting that Parliament be allowed to function and the issued debated. NDA's key ally JD(U) also is keen that Parliament functions so that the Government can be "exposed" on the coal scam. 
The BJP leader sought to scotch speculation that the party has gone back on its demand for PM's resignation.  "We have not backtracked on Prime Minister's resignation.  We stick to our demand that Prime Minister Dr Manmohan Singh should resign accepting moral responsibility in the coal block allocation scam," Swaraj said.
The BJP leader, who had tweeted yesterday that Congress chief Sonia Gandhi had spoken to her about breaking the logjam in Parliament, today said she has still not received any indication from her on their demands.  Swaraj's tweet had listed the demands but made no mention of Prime Minister's resignation.
"The conclusions drawn in the section of media (about BJP softening its stand) are totally wrong. BJP is firm on Prime Minister's resignation. There is no question of us backtracking on it," she added.
Swaraj said BJP holds the Prime Minister "directly responsible" for coal block allocations since he was in charge of the ministry at that time.
"An independent probe should be conducted in the coal block allocations," she said, adding that all the licenses issued in in this connection should be cancelled at once.  She said a countrywide agitation on the issue would be launched. "We will take to the streets after the Parliament session ends on September 7," she said. 
Another indication of a climbdown came from senior leader L K Advani. "The NDA has offered to resolve the deadlock if all the allotments made are cancelled and the process whereby the screening committee has decided these allocations is subjected to a judicial probe. The government is not yet prepared for this," he said in a blog post today. 
In Bhopal, party national spokesperson
Ravi Shankar Prasad
said, "How can Manmohan Singh remain Prime Minister when CBI is investigating and finding irregularities even in its preliminary probe?"
"There cannot be one set of rules for allies and another for the Congress Prime Minister and other ministers," he said.
Under the same UPA government, two DMK ministers—Dayanidhi Maran and A Raja—were forced to resign for their alleged role in the 2G scam, then why the same rule does not apply to the Prime Minister and other ministers on the coal block allocation issue, asked Prasad.
However, when asked if the two demands of the BJP are met will it then be ready for a debate on the issue in Parliament, Prasad said "the question is hypothetical." "The Parliament is not just a place to debate but is also meant for accountability," he remarked.