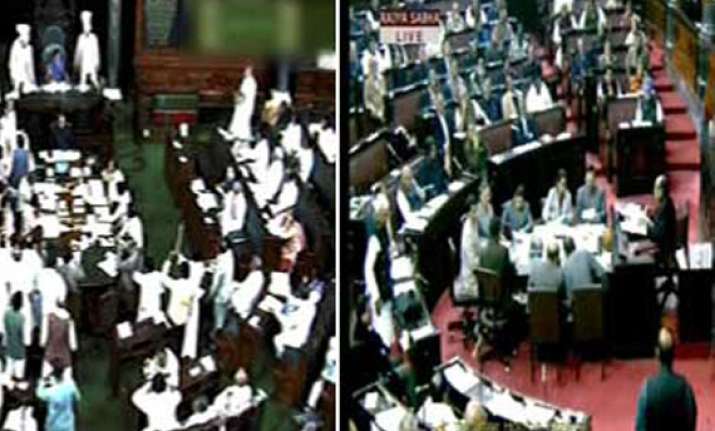 New Delhi, Nov 26: Parliament on Monday witnessed uproar over FDI issue with Opposition members shouting slogans during Question Hour leading to adjournment of both Houses first till noon and then for the day.
As Lok Sabha assembled for the day, Speaker Meira Kumar offered tributes to those who had lost their lives in the Mumbai terror attack on this day four years ago. She emphasised the need for rooting out terrorism and lauded the role of security forces.
The members then stood in silence to pay respect to those killed in the 26/11 attacks. Soon thereafter, BJP members raised the issue of FDI in retail and shouted "take back the FDI decision". Trinamool Congress members trooped into the Well with placards demanding subsidy in LPG cylinders and shouted slogans.
Some members from Andhra Pradesh were seen holding placards demanding a Telangana statehood bill. With the uproar continuing, the Speaker adjourned the House till noon.
In the Rajya Sabha, soon after the House paid homage to the victims of the Mumbai attacks, senior BJP leader M Venkaiah Naidu raised the issue of FDI and was joined by other party colleagues. Naidu said his party has given notice to suspend the Question Hour to discuss the FDI issue.
BSP and SP members too raised slogans against FDI in multi-brand retail. BSP demanded the decision be taken back. All the while Trinamool members were on their feet. As repeated appeals for normalcy went unheeded, chairman Hamid Ansari adjourned the House till noon.