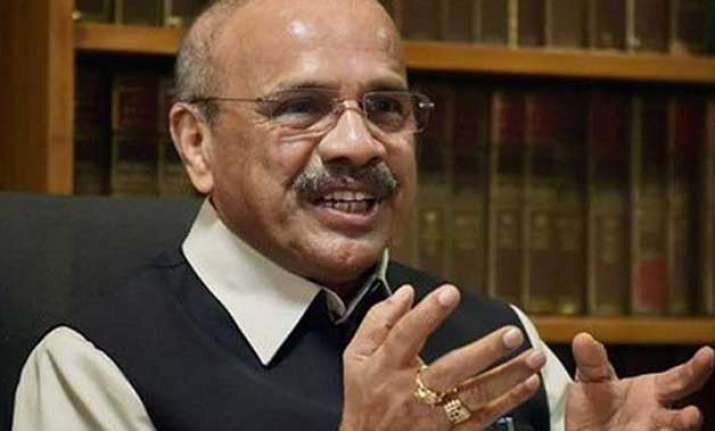 Kadapa (AP): Union Minister of Law and Justice D V Sadananda Gowda today said that if Pakistan wants to continue talks with India, it has to take steps to curb terrorist activities originating from its soil.
"Now ball is in Pakistan's court. Pakistan has to respond positively to continue the bilateral talks. If Pakistan wants to continue talks, it has to take steps to curb the terrorist activities, which are harming our country, from its soil," Gowda said addressing a press conference here.
 "The Indian government and Prime Minister Narendra Modi are taking all necessary steps to maintain good relations with Pakistan and trying to ensure to take the bilateral talks forward to maintain peace in the sub-continent," he stressed.  
Praising the soldiers, commandos and intelligence officials for efficiently handling the terror attack in Pathankot air base, he paid rich tributes to those who sacrificed their lives while fighting the terrorists.  
Based on the information of intelligence department, all (security) forces were alerted who efficiently handled the Pathankot terror strike, otherwise it may have turned out to be "worse than the Mumbai terror attack (of 2008)," the minister said.
Gowda said the government is keen on maintaining harmony and good relations with the neighbouring countries and also to safeguard the nations's interests.
Six terrorists, who had sneaked into the country from Indo-Pak border in Pakistan, attacked the Indian Air Force base at Pathankot in Punjab during the intervening night of January 1 and 2.
They were killed during a counter-operation by Indian forces that lasted for about three days in which seven security personnel were killed.
Notably, putting the ball squarely in Pakistan's court, India yesterday linked the Foreign Secretary-level talks to Islamabad's "prompt and decisive" action in the Pathankot terror attack for which it has provided "actionable intelligence".
Uncertainty prevails on talks scheduled for January 15 in Islamabad between Foreign Secretary S Jaishankar and his Pakistani counterpart Aizaz Ahmad Chaudhry following the Pathakot terror attack which was originated from Pakistan.  There is a widespread speculation that the talks may be put off to enable National Security Advisors to meet before that.