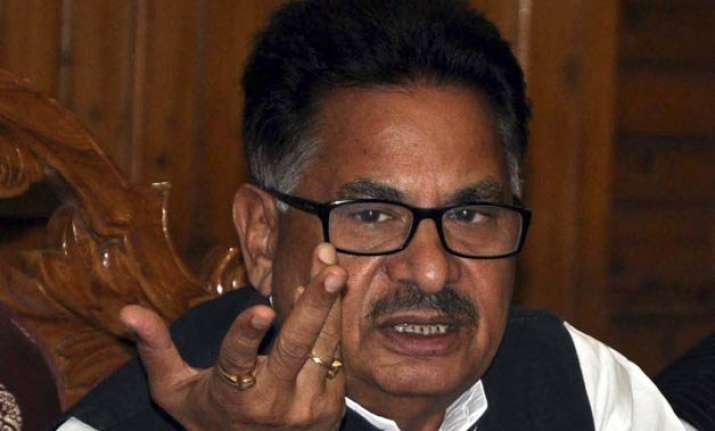 New Delhi: BJP today accused National Commission for Scheduled Castes Chairperson P L Punia of acting like a Congress spokesperson and also attacked its vice president Rahul Gandhi and BSP leader Mayawati for shedding "crocodile tears" over the killing of two Dalit children.
Under fire over the incident and subsequent dog analogy used by Union Minister Gen (retd) V K Singh, BJP fielded its Dalit leader Vijay Sonkar Shastri to deflect criticism and take on Punia over his comments deprecating Singh.
"Punia must explain whether he wants to act like a Congress spokesperson or somebody in a constitutional post. Can he act as a party leader while holding the NCSC chief post? We have strong objections to his comments. There are talks that the Commission under him does not work and Dalits are not getting justice. Can Punia give one example where somebody from the Scheduled Castes has benefited from his work?" Shastri told a press conference soon after Punia criticised Singh for his comments.
Taking suo motu congnisance of Singh's controversial comments over the Dalit burning issue, the Commission has issued a notice to DGP of Uttar Pradesh and SSP of Ghaziabad. He said the killing had was not a case of crime targeting Dalits but due to enmity between two families and claimed that local BSP MLA besides the state administration had said so as well.
Shastri, a former chairman of the Commission, termed as "unfortunate" Singh's 'dog analogy' while the Minister was responding to queries on the incident.
Asked about criticism by allies like Jitan Ram Manjhi and Ram Vilas Paswan, he noted that Singh had expressed regret and senior party leaders like Home Minister Rajnath Singh had also commented on it.
Mocking Rahul Gandhi over his visit to the Faridabad home of the victim family, Shastri said his "Dalit prem (love)" had surfaced again.
"People like him visit Dalits, do photo-ops and then forget them. They can do nothing but shed crocodile tears," he said.
Shastri raked up cases of violence against Dalits when Congress was in power in Haryana and the Centre as well and recalled that many of them had fled Murchpur village as no action was taken against the accused.
Unlike this, Haryana police has acted "swiftly" and arrested eight of the 11 accused. The CM has also ordered a CBI probe, he said.
Working overtime to wean crucial Dalit votes in UP off Mayawati, BJP attacked her for doing nothing for the community in the state when she ruled it and claimed her "sun had set". She had today demanded Singh's acking for his remarks and said he should be sent to jail for his "petty, mean and low-level mentality". But she did nothing for Dalits and is now shedding crocodile tears, he alleged.
He also alleged that as chief minister she had issued an order in 20002 that FIR should not be registered in "small incidents" involving Dalits and even a case of rape should be lodged only after it was proved medically.
"I was then the Commission's chairman. And it was due to my effort that this order was withdrawn," he said. He claimed that the opposition parties were finding it difficult to face BJP's developmental agenda and doing politics over recent "unfortunate" incidents.
V K Singh has found himself at the centre of a row over his comments yesterday that the Centre cannot be blamed if somebody throws a stone at a dog when speaking in connection with the Faridabad Dalit burning incident in which two children were killed.