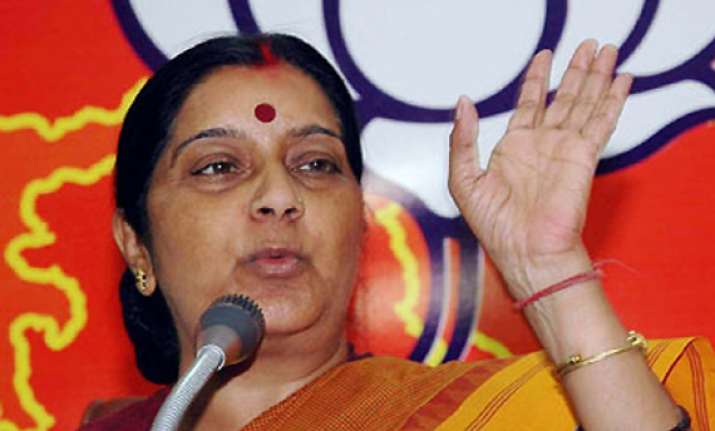 New Delhi, Nov 27: In a rare coming up together, Opposition will seek to corner the Government in Parliament tomorrow on its decision to allow FDI in retail.

A clear indication to this effect was given today by the Leader of Opposition in Lok Sabha Sushma Swaraj who said BJP leader Murli Manohar Joshi has submitted a notice of adjournment motion on the FDI issue on behalf of the party. "We want the House to discuss this issue by way of adjournment motion tomorrow," she tweeted, adding Government's decision of allowing 51 per cent FDI in retail "is not acceptable to us".

Leader of Opposition in Rajya Sabha Arun Jaitley will move a motion to suspend Question Hour to discuss why the Government's decision on allowing FDI in retail should be revoked.

Key NDA ally JD(U) has also given a notice of an adjournment motion in Lok Sabha on Monday and efforts are on for floor coordination among opposition parties including BJP, the Left, AIADMK, besides those supporting UPA such as BSP and SP.

The Left parties and AIADMK are likely to move similar motions in both the Houses.

Added to this is the fact that some constituents of the UPA like Trinamool Congress are also opposing FDI in retail.  Opposition sources said efforts were underway to bring on board DMK besides the Trinamool.

NDA Convener Sharad Yadav claimed that the entire opposition will remain united on this issue in Parliament. "Parliament will not run at the cost of people. This decision of government will render crores of small business and vendors unemployed and destroy the unique village economy of the country," he said.

The first week of the Winter Session which began on November 22 was a virtual washout in view of Opposition protest over various issues including price rise and Telengana. On Friday, it was adjourned without transacting any business following uproar over the FDI issue.