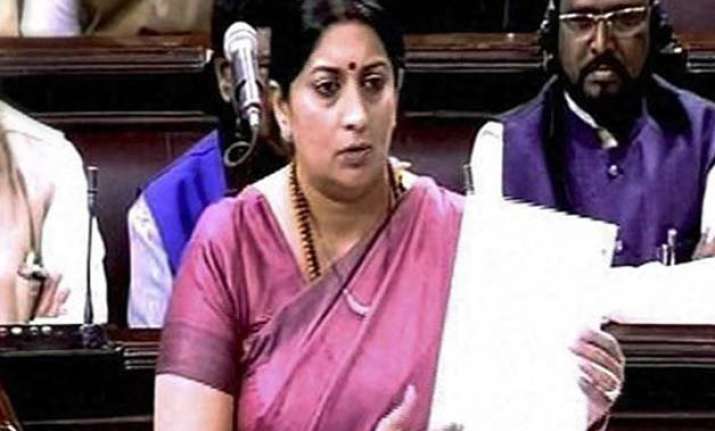 New Delhi: In a move that signals another showdown between opposition and government , Congress MP KC Venugopal and Ranjit Ranjan have given a privilege motion against against Human Resource Development Minister Smriti Irani over her remarks over her statements on the death of Hyderabad Central University student Rohith Vemula and the JNU controversy.
Alleging that she misled Parliament, two Congress leaders moved privilege motion against the minister in the Lok Sabha this morning. Leaders from the Janata Dal (United) and Left parties may join the Congress with another motion as the Opposition parties have joined hands to corner the human resources and development minister for 'misleading Parliament' and speaking 'untruths' in the House.
Congress Vice President Rahul Gandhi will also speak in parliament today . He will speak on thanks giving motion on President speech and may target Smriti on JNU and intolerance issue.
Irani's fiery replies to debates on the campus crises in the country had won her much praise from her party with Prime Minister Narendra Modi congratulating her on Twitter.
Vemula's mother on Friday launched a scathing attack on HRD Minister Smriti Irani, accusing her of resorting to 'blatant lies' while talking in Parliament about her son's suicide.
"Irani, this is not a small screen to act, this is real life. Bring out the facts, don't fabricate them. How many parents you would like to suffer. Irani has lied multiple times while speaking on the issue in Parliament. Why has action not been taken against her?" Rohith's mother told reporters yesterday.
Speaking in Parliament, Irani had on Wednesday tried to deflect criticism and mounted a strident attack on the opposition accusing it of "politicizing" the PhD scholar's death. She had said that the committee which acted against Rohith had a dalit representative and that doctors were not allowed to revive him after he was found hanging.