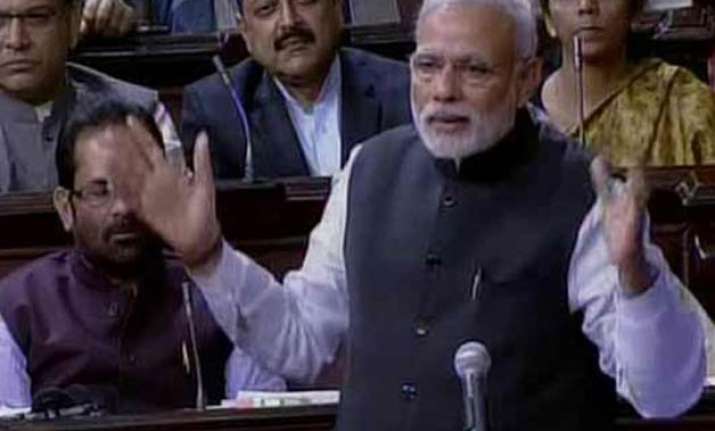 New Delhi: Opposition led by Congress today created uproar in Rajya Sabha over the release of separatist leader Masarat Alam by the PDP-BJP government in Jammu and Kashmir demanding a clarification from Prime Minister Narendra Modi on the issue.
Congress, TMC, JD-U and BSP raised the issue when the House met for the day, calling it a serious issue with implications on national security and demanded suspension of business to take up the issue.
Finance Minister Arun Jaitley said "as far as our government is concerned, there will be no compromise on national security" and Home Ministry has sought a report on the issue from the state government.
"Some preliminary facts have come and Home Minister will make a statement on issue," he said.
ALSO READ: I am also pained by Mufti's decision: PM on Masarat Alam release
Deputy Chairman P J Kurien disallowed the motion but Congress members continued to press for a statement from Prime Minister and stormed into the well of the House, forcing adjournment of proceedings for 15 minutes.
Raising the issue Anand Sharma (Cong) alleged that the Jammu and Kashmir government was "encouraging separatists and anti-national activities. ... We cannot accept this... this country is not ready to accept this."
Mayawati (BSP) said after the controversial statement by Chief Minister Mufti Mohammed Sayeed crediting Pakistan and separatists for the conduct of free and fair elections in the state, the release of separatist leader "is not in national interest. In one way it is anti-national."
BJP, she said, should not "compromise national interest for the lust of power" and went on to remind how she had in August 2003 resigned as Chief Minister of Uttar Pradesh within a year of forming a government with BJP support, as her party BSP did "not want its principles to be compromised".
Sharad Yadav (JD-U) said it was BJP's responsibility to clarify on the issue as it had been having parleys with PDP for two months before forming the government in J&K.
Direck O'Brien (TMC) said the security of the country has been compromised because of "selfish convenience of politics has won over conviction. "... Prime Minister needs to come and explain," he said.
Mir Mohammad Fayaz (PDP) criticised Congress for raising the issue now when it did not utter a word when the PDP-Congress coalition in 2002 released Hurriyat leaders Geelani, Shabir Shah and Yaseen Malik.
Fayaz alleged that Leader of the Opposition Ghulam Nabi Azad of Congress had compromised on principles to get elected to Rajya Sabha even as five Congress MLAs had voiced "similar views as PDP" on the hanging of Afzal Guru.
Azad rebutted the charge saying 3-4 MLAs had in response to a statement by chief spokesperson of PDP, who is now a minister, stated that on humanitarian grounds the family should have been allowed to meet Afzal Guru and his body should be handed over to them.
"They made no mention of the hanging... there was no condemnation of the hanging," he said, adding the statement by the legislators was in their personal capacity and not authorised by the party.
As Kurien disallowed the motion, Congress members rushed into the Well of the House raising slogans like "aatankwadi ko chhodnewalon, sharam karo, sharam karo (shame on people releasing terrorist)."
Continued vociferous protests by Congress members deterred External Affairs Minister Sushma Swaraj to make a statement on Tamil fishermen issue raised by JD-U's K C Tyagi.
Kurien tried to restore order in the House saying it was "unfair" on part of Congress to not allow others to raise their issues.
As Congress members kept shouting slogans in the Well demanding statements from the Prime Minister and Home Minister Rajnath Singh, an apparently exasperated Deputy Chairman P J Kurien criticised them for not allowing others to raise issues.
Minister of State for Parliamentary Affairs Mukhtar Abbas Naqvi tried to persuade the Opposition members by assuring them that Home Minister will clear their doubts on the issue. "When the Home Minister gives a reply, the facts will come out. You will then realize what have you done."
"This is high-handedness, indiscipline. Let the whole country see your behaviour... I had already said that after this issue the subject of Tamil fishermen will be taken up. Can the main Opposition party obstruct the issues of other opposition parties? You are doing wrong. Why do you oppose Tyagi? Why do you oppose the fishermen issue? This is high-handedness of one party... this is very bad," he said.
"I never expected this behaviour. You may do whatever you want," he said refusing to adjourn. However, with the noisy protests continuing, he adjourned the House till noon.