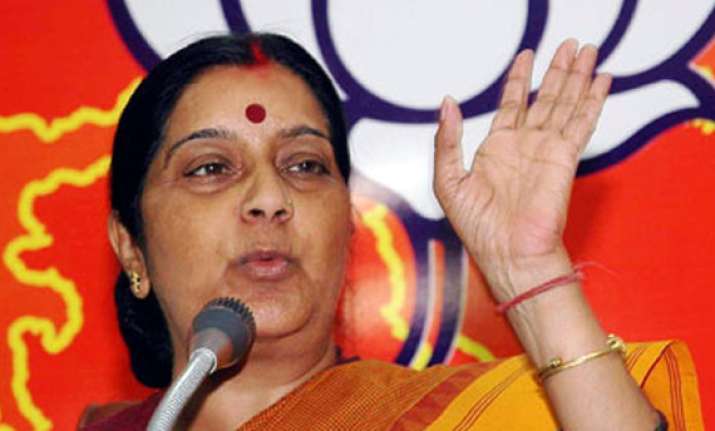 New Delhi, Aug 3: BJP leader Sushma Swaraj Friday said that opposition was not responsible for disruptions in proceedings of parliament and it fulfills its role of holding the government accountable for its actions.
Speaking on "The role of Opposition in Indian democracy" at the Delhi University, Sushma Swaraj said that reluctance of Congress-led United Progressive Alliance government to accept demands of opposition often results in stalemate in parliament.
"We are not responsible for disruptions," she said.
Sushma Swaraj is the Leader of Opposition in Lok Sabha. The Bharatiya Janata Party is the main opposition in both Rajya Sabha and Lok Sabha.
Citing instances, she said the government agreed to debate on foreign direct investment in multi-brand retail under voting rules only after it managed the numbers.
She said that the opposition had been demanding resignations of then law minister Ashwini Kumar and former railway minister Pawan Kumar Bansal during the second half of the budget session but the government did not agree.
She said the two minister eventually resigned their posts after the session was over.
Sushma Swaraj said the government often wants debate under rules that do not entail voting.
"The principle is to fix accountability with debate. Is government accountable or not?" she said.
The BJP leader said her party and the opposition had never stalled proceedings for their own interest but always on issues concerning people.