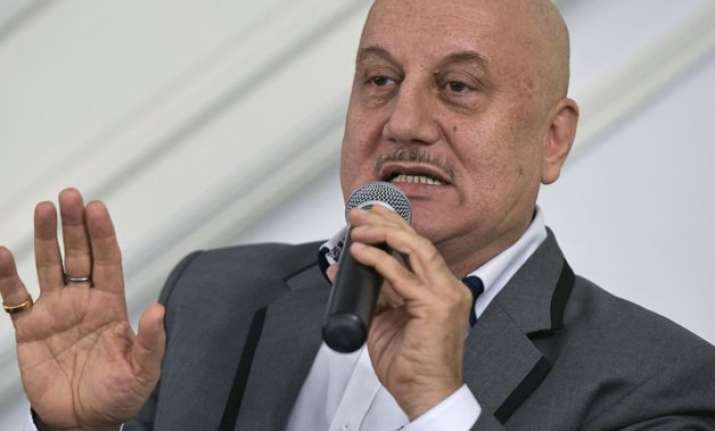 Kolkata: Bollywood actor Anupam Kher has accused the opposition of 'marketing' the tolerance-intolerance debate as they lacked issues and were unable to stomach their defeat in the Lok Sabha polls.
"This is a no debate. The rich and the famous are talking of intolerance. If you ask a man on the street, they won't talk about intolerance. All they want is food two times a day. Those with champagne in a glass are only talking about it. Are you living in India or America," Kher said on Saturday at an event here.
"Tolerance is being marketed now. The opposition is taking revenge for the way they were defeated," Kher added.
He said the "biggest" form of intolerance in the country was during the emergency when all those people who spoke against the government were jailed.
"The opposition lacks any issue. They haven't been able to raise any corruption related issue in the past 22 months, while during the preceding ten years (of Congress-led United Progressive Alliance regime from 2004-2014) there was only talk about graft," Kher said.
Mocking Rahul Gandhi, he said, "Congress is the most tolerant in India because they are tolerating a person whom they want to project as a prime minister of this country".
"If you can tolerate that person then you can tolerate anything in the world. This is ridiculous. Did you hear the word intolerance before the last eight months? This has been marketed to take revenge for the defeat in the last elections," Kher said, adding, corruption is "not being talked about" in the last two years while in the last ten years corruption was the most talked about topic.
Actress Kajol, who was sharing the dais with Kher, said there are different types of intolerance and political intolerance is only one of them. "To make all social issues a political one is absolutely wrong. We have to work together to make a stronger and richer India and only then intolerance cease to exist. The debate on intolerance does not recognise this," she said.
The intolerance debate has grabbed the media headlines in recent past after opposition parties led by the Congress targeted the BJP led-government for suppressing the voice common men.
With IANS Inputs