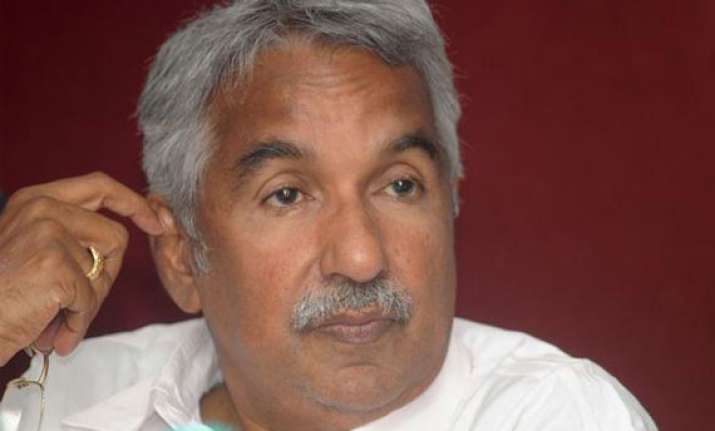 Kochi: Making it clear that he had no plans to resign, Chief Minister Oommen Chandy, against whom a vigilance court had ordered further investigation for alleged corruption in the setting up of an effluent treatment plant at a state-owned firm, today said he was prepared to face any probe.
"Let any type of investigation take place. I will cooperate with any investigation," Chandy told reporters here.
Whatever action he had taken in the case, were with good intentions, the chief minister said.
"As far as I am concerned, what I did was to ensure that a group of factories in Ernakulam and the Travancore Titanium Products plant in Thiruvananthapuram are not closed down following the recommendations of the Supreme Court appointed committee.
I had taken an active role only to protect the interests of the employees," he said.
"We are not afraid of any investigation. Only those who have done any wrong, need fear. What I have done is in the open. My conscience is clear," he said.
The case pertains to alleged irregularities in implementation of an effluent treatment plant at the state-owned Travancore Titanium Products, one of Kerala's oldest public sector firms.
Demands for his resignation had come after a vigilance court had directed investigation against him in the 1992 'Palmolein Import case', Chandy said.
The High Court had later cleared him of the charges. Similar demand had arisen recently during the 'Solar scam case', he said.
"If I had resigned then it would have been a blunder," the chief minister said.
Chandy said the name of Home Minister, Ramesh Chennithala, had been unnecessarily dragged in the case as he was neither a minister or an MLA during the time and was not part of the government.
There was no basis for dragging his name in the case, Chandy said.
The apex court monitored committee headed by Thyagarajan had recommended closure of about 198 units in the state when Chandy was the chief minister in 2005.
All trade union leaders of the companies, including INTUC and CITU, had met him and requested that closure should be
avoided, Chandy said.