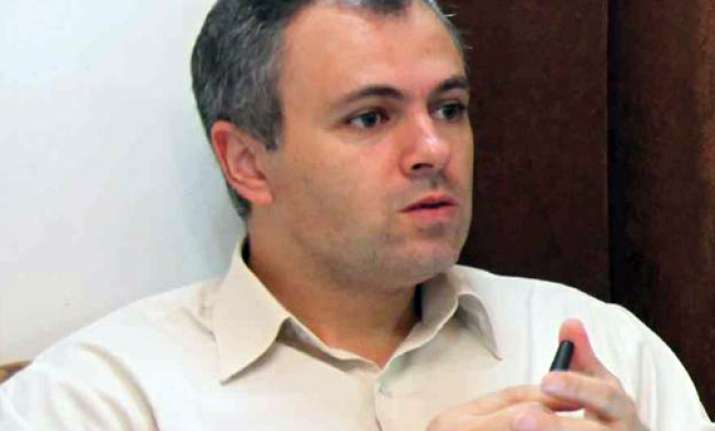 Banihal, Jun 27: Jammu and Kashmir Chief Minister Omar Abdullah Thursday attacked BJP for raking up the issue of special status for the state saying Article 370 was only a political issue for it to "befool" the people.
Speaking in the presence of Prime Minister Manmohan Singh and UPA Chairperson Sonia Gandhi, Omar did not name BJP leaders but said "there are some opportunistic leaders who are parroting 370 as they feel elections are near and want to befool the people".
Referring to the 11-km tunnel through the Pir Panjal ranges which the Prime Minister inaugurated today with Article 370, he said it can be compared with Article 370 which connected our state with the rest of the country.
"I want to take this opportunity to make a few things clear. They (BJP leaders) come to our land and talk about abrogating our 370. I want to remind them that you were in power for six and a half years, but tell me did you talk about the abrogation in these years. Did you even try?
"You (BJP) remember these things only when you are out of power. If you get the reins of power again, which I do not think will happen in next 10-15 years, I don't think you will touch 370, because you know that weakening 370 will be weakening the relation between Jammu and Kashmir and the country," the chief minister said.
BJP has been pressing for the abolition of Article 370 and senior party leader L K Advani had on Sunday last made a renewed pitch for scrapping it.
He warned the BJP that any dilution of the constitutional guarantee would be possible "only over our dead bodies because we would not allow you to weaken this relationship. This relation has been confirmed by Sheikh Abdullah and the first Prime Minister Jawahar Lal Nehru."
He went on to say that National Conference (NC) and Congress where parties with a different political thinking on some issues, but were firm on strengthening this relationship between the state and the Centre.
Omar said the nationalist forces in the state will not be allowed to weaken and they will keep the relation of the state with the country alive.