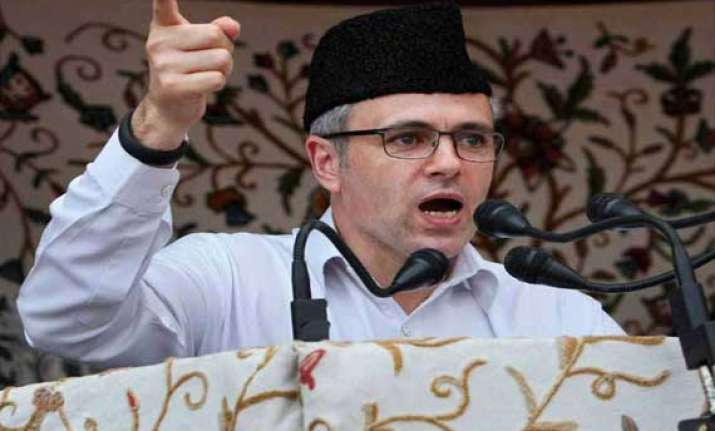 Jammu: Jammu and Kashmir Chief Minister Omar Abdullah today said he would retire from politics if BJP gets a majority in Assembly elections in Jammu and Kashmir.
"The day BJP gets majority in Jammu and Kashmir (Assembly elections), I will take retirement from active politics and go into hibernation," Omar told reporters in Doda district.
He was responding queries on BJP's mission of getting 44+ seats in the state Assembly elections which is expected to be held by year end.
"I do not want to see that day nor will that day come in the future," Omar said.
In reply to a question on fighting the polls without ally Congress, he said, "No such decision has been taken as yet. But the truth is that in both the parties, voices are raising the pitch that elections should be fought separately."
"In my party, there are most of the people who do not want that elections should be fought in alliance with Congress. But the final decision would be taken by Dr Farooq Abdullah (president of the party). But I do not feel that he will be able to reject the demand of the party workers," he said.
On the meeting between Congress leader Ghulam Nabi Azad and PDP patron Mufti Mohmmed Sayeed in Srinagar, Omar said, "Ask this question to Azad or Mufti. But my take is that if there is meeting to be held, why to go for secret meeting? Just go and hold an open meeting."
"The day I will have to hold meeting with Mufti I will go and meet him in his residence publicly. Secret meeting does not give a good signal (within the coalition government)," he said.
The NC leader also hit out at Congress for breaking the coalition dharma by holding meetings in his party's areas.
On the price rise issue, the Jammu and Kashmir Chief Minister said you can promise good days "only when you are in command of things and situations".
"You can make a promise only if there is control in your hands. The present government at the Centre has understood this fast that there are several things that will happen whose control is not in their hands."
"For example, whatever is happening in Iraq has impact on the prices of the petrol. It is imminent that people would be annoyed. But it is not in the control of the government. They had promised good days ahead. But due to the poor monsoon, bad days are going to come in future."
"You can talk of good days only when you are in command of things and situation," Omar said.