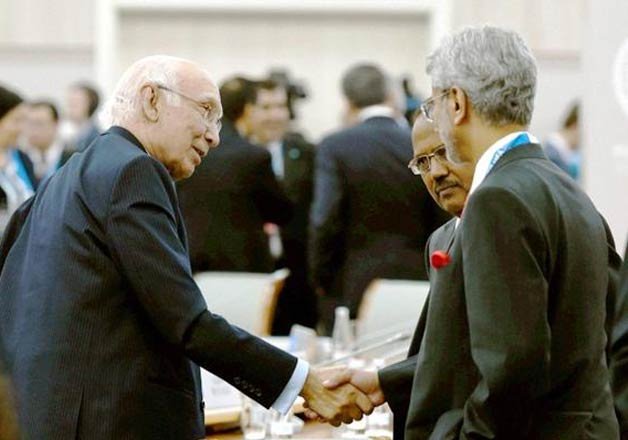 Jammu: The BJP today said it sticks to its stand that talks and terror cannot co-exist but supported the NSA-level talks, saying that it will be centred around how to to tackle terrorism.
"As far as our party is concerned, there is no change on the stand. Talks and terror cannot co-exist. There is no two opinions on it and party abides by it," BJP national spokesperson Sambit Patra told reporters here today.
"As far as the talks at the level of NSA are concerned, these are not prime minister-level talks. This is a talk on terror. How to stop terror. The talks are centered on it and how to end terrorism," he said.
Responding to the statement of Pakistan High Commissioner, he said,"I believe that the MEA will look into the issue. As a party spokesman, I would refrain from speaking on it."
Ahead of the Indo-Pak NSA-level talks, Pakistan's High Commissioner to India Abdul Basit said his country will not "abandon" the Kashmiris' "legitimate struggle for freedom", stressing that to have normal and cooperative relationship with India it was necessary to settle the decades-old dispute.
On repeated ceasefire violations by Pakistani troops, he said,"Union Home Minister Rajnath Singh and Defence Minister have already said that befitting reply would be given.
"There will be no weakness as far as retaliation from our side is concern. Effective reply is being given to them." "You have seen that after formation of a strong
government, headed by Narendra Modi, appropriate response has been given from this side and Pakistan has succumbed and is on its knees now," he said adding, "no one can dictate India".
On the issue of unfurling of ISIS and Pakistan flags in Kashmir, he said, "BJP always takes these issues very seriously."
"The Union Home Minister has already issued strong directions in this regard that nobody would be allowed to go scot free in these cases," he said.
He said,"Some miscreants and those creating conspiracies are out to destabilise the state government which has formed after 70 per cent of the people of the state voted in its favour".
"The Government is already taking steps to deal with such incidents. We want BJP-PDP government in JK to be successful as it is a big experiment," he said.
Patra said,"It is a experiment for the democracy of the Jammu and Kashmir and for development and good governance. There should be no politics on it by National Conference and Congress." He also praised the youths who captured Pakistani terrorist.
"It is a big success for us. Government is already working to ensure that no terror attack takes place in the country," he said.
Hitting out at parties advocating the abolition of VDCs and revocation of AFSPA, he said that they should take lessons and do not do politics on it. "These are security issues and all should fight unitedly".
Taking a dig at Congress, he said, "When Gurdaspur and Udhampur incidents took place, Congress was engaged in politics in Parliament and seeking reply from the Prime Minister over the terror attack even when the encounter was still on".
 
Replying to a question of 'One Rank One Pension', the BJP leader said, "As far as our soldiers and ex-servicemen are concerned, I want to salute them on the behalf of my party and my government. I bow before them,"
"The PM has always told them to have trust in him and be patient that government is yours and it is because of you (soldiers and Ex-servicemen) the government and India exists," he said.