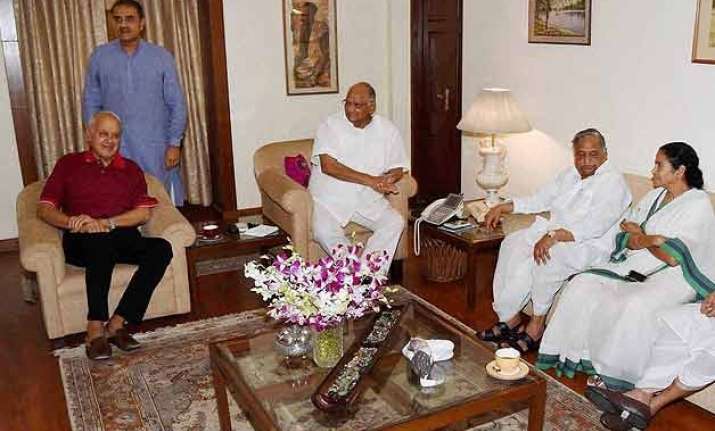 New Delhi: Non-Congress and non-NDA regional parties including SP, NCP and TMC today met to form a common political strategy and discussed a range of issues including crucial Bihar polls scheduled to be held later this year.  
The meeting of the regional satraps, many of whom have not fared well in Lok Sabha or in their respective state assembly polls and had crushing defeat at the hands of the BJP, assumes significance as the main opposition party Congress was kept out of it, which gave an indication of attempts to work out some sort of alternative political realignment.
NCP leader Praful Patel, however, downplayed suggestions that this meeting of the non-Congress and non-BJP parties is a prelude to the emergence of the some kind of front in national politics.
The meeting, which lasted for over an hour at the Sharad Pawar's residence—stone throw away from Congress President's 10 Janpath—was called by the NCP chief, whose party currently shares an uneasy relationship with the Congress at the Centre and especially in Maharashtra.  
Apart from Pawar, SP chief Mulayam Singh Yadav, West Bengal chief minister Mamata Banerjee, JD(U) President Sharad Yadav, NCP's Farooq Abdullah, attended the meeting.  
Delhi Chief Minister Arvind Kejriwal gave the meeting a miss, but sent a message through Banerjee asking the afore mentioned leaders to be a part of the meeting which he has called next month to discuss cooperative federalism.  
Samajwadi party supremo Mulayam Singh Yadav said "biggest importance of today's meeting is that we were scattered, now we are united to work for women, youth, farmers, minorities."
He also exuded confidence that the Janta Dal alliance will  "definitely register a win" in the Bihar polls.  When asked whether Congress was invited, NCP leader and former Union Minister Praful Patel said the meeting was of "small regional parties".
On further asked, if this a beginning of a first federal front, Patel said, "I don't think so. Please do not attribute any front or motives to this meeting except the fact that Mamata Banerjee met Mr Pawar yesterday and said 'You are senior leader, why don't you call people, it will be nice'.  And that is the only reason and there is no agenda as explained by Mr Mulayam Singh Yadav," Patel said.
On possibility of whether Congress will be absolved during the next meeting (September 22), Patel said "This is
not a formal structured meeting. So, please don't attribute any motives.

The next meeting is to be called by Mr Sharad Yadav on September 22. Obviously it has something to do with Bihar elections, Patel said.
"Political message is that the all parties who are like minded must be working together so that there is a some kind of structured, measured approach towards the issues of the country," he added.
Mulayam Singh Yadav said there is lack of confidence amongst public against the government. He added that the leaders discussed issues of flood and drought and Centre's ignorance towards it.
"Pawar has called a meeting to discuss condition of the country. We discussed issues relating women, farmers, youths as their condition is not good, educated youth are facing the problem of unemployment.
"We spoke about development of the country and discussed how to ensure integrity of the country. We will make every effort to ensure federal structure of the country remains intact while attempts are being made to weaken it in-between," Yadav said.