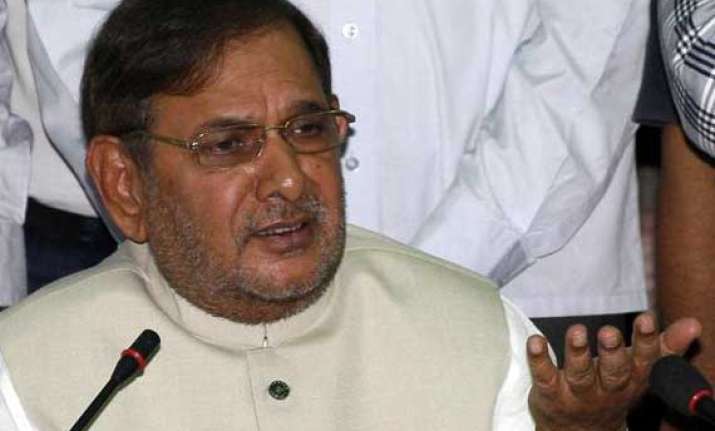 New Delhi: Janta Dal-United today ruled out any truck with Congress or its erstwhile ally BJP and voiced confidence that despite "inherent contradictions", a third force will emerge after Lok Sabha polls of which it will be a key part.
In an interview to PTI, party President Sharad Yadav admitted that there are "intrinsic" contradictions that act as a hindrance in bringing all non-Congress and non-BJP parties on one platform but at the same time cited examples of their coming together to form governments in past.
Yadav said that while JD(U), Samajwadi Party and JD(S) have already joined hands, talks are on with other parties.
He also cited the initiative taken by Left parties leading to a convention against communalism attended by 17 parties including AIADMK, BJD and AGP, parties which the BJP has been eyeing as possible allies.
"Yes there are some intrinsic contradictions in states. Left and Mamata (Banerjee) cannot go together in West Bengal, SP and BSP in Uttar Pradesh or DMK and AIADMK in Tamil Nadu. But the experience of last 65 years shows that while there is internal contradiction, there is also a broad agreement on crucial issues.
"The same parties had come together when we organised Bharat Bandh on issues like price hike thrice. We are trying to find a way and to begin with JD (U), Samajwadi Party and Janta Dal Secular have come together. More parties will join. We are trying and confident that it will happen," Yadav said.
He insisted "possibilities cannot be ruled out. It had happened in past. It can happen in future. I am confident it will happen in future. People do come together despite inherent contradictions," Yadav said adding that his party strongly believes that "an umbrella alliance of non-Congress and non-BJP parties" is the need of the hour in the given scenario.
"Yes there are contradictions but we formed a government in 1977 (Janata Party government), 1989 ( VP Singh-led National Front government) and in 1996 (H D Deve Gowda and I K Gujaral led Third Front Governments).
"Despite the problems with the continuance of these governments, we did good work," Yadav said.
While the VP Singh government was supported by BJP from outside, the Deve Gowda and Gujral governments were supported by Congress.
Janata Party government that came to power on anti- Congress plank had Bharatiya Jana Sangh (before it was re-named the BJP) as one of the parties that merged to form Janata Party.
JD(U) had walked out of NDA in June last year breaking its 17-year-old ties with BJP in protest against the elevation of Narendra Modi, who was finally declared the main Opposition party's Prime Ministerial candidate.