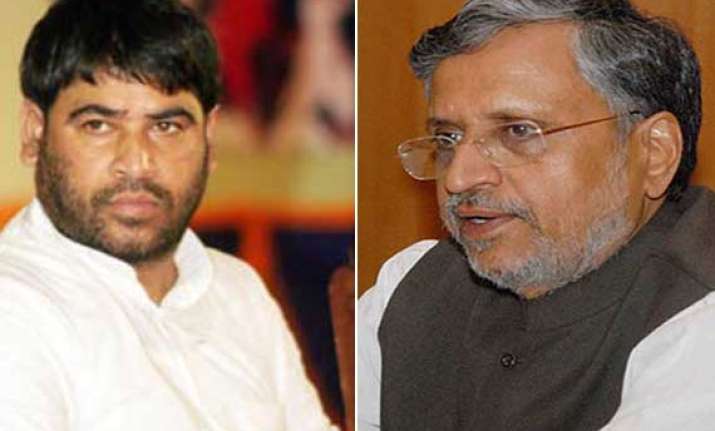 Patna: Bihar BJP today said they would not take RJD chief Lalu Prasad Yadav's estranged brother-in-law
Sadhu Yadav into the party.
"There is no question of taking him into BJP," former Deputy Chief Minister Sushil Kumar Modi said reacting to Anirudh Prasad alias Sadhu Yadav's meeting with Gujarat Chief Minister Narendra Modi at Ahmedabad yesterday.
"Anybody can meet any person as there is no bar in this," Modi said from Gaya, where he is participating in the state party executive committee meeting.
"Neither Sadhu Yadav expressed any desire to join BJP nor the party gave him any offer so from where does this question of Yadav joining BJP comes?" Modi said.
Modi's colleague and Leader of Opposition in the state Assembly Nand Kishore Yadav echoed similar views. "There is no chance of taking Sadhu Yadav into party fold," he said.
While BJP leaders are in a denial mode, Nitish Kumar led JD(U) snubbed the party for its growing affinity to RJD chief Lalu Yadav.
"Entertaining a person like Sadhu Yadav who was a symbol of jungle raj prevailing in Bihar during RJD period reflects taste of Narendra Modi," Neeraj Kumar, state JD(U) spokesman said.
Another JD(U) spokesman Rajiv Ranjan Prasad said the meeting is enough to prove Modi's "growing closeness" with the RJD Chief.
"Though Sadhu Yadav is now in Congress but he is brother-in-law of the RJD chief...Modi used the meeting as an another opportunity to come close to the RJD chief before 2014 elections," Prasad said.
Meanwhile, Congress in Bihar sought to play down the meeting.
"Sadhu Yadav does not hold any party post. The PCC will take appropriate action if something serious comes out," state Congress president Ashok Chaudhary said.