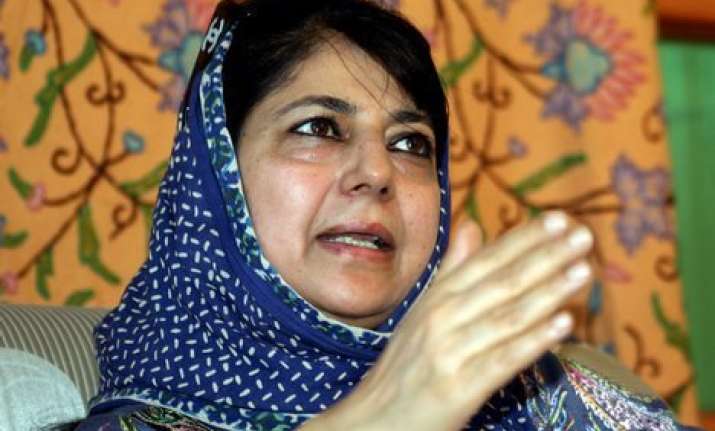 Jammu: People's Democratic Party president Mehbooba Mufti yesterday said there was no indication that the Narendra Modi Government is serious about its election promise of resolving the problems of Jammu and Kashmir.
Addressing a function held to welcome former Congress leaders - Vinod Mahajan and Nitish Mahajan- into party fold, Mehbooba said former prime minister Atal Bihari Vajpayee had laid a solid foundation for resolving Kashmir issue and problems of the state during his 1998-2004 tenure.
"It was believed that Prime Minister Narendra Modi with a decisive mandate would carry forward the mission but it seems that things are not moving in that directions," she said.
Mehbooba said the ceasefire between India and Pakistan was a result of Vajpayee's vision and statesmanship and it came at a time when the two countries were in a war-like situation.
She said Vajpayee exhibited statesmanship and rose above petty consideration, responded to the overwhelming yearning for peace among the people of the state and extended friendship to Pakistan even in the backdrop of Kargil and Parliament attack.
"Rescuing the ceasefire and taking forward the resolution process would be much easier now but any drift could result in wasting the hard labour," she said.
She said that Jammu and Kashmir is passing through a crucial juncture after unprecedented floods and there is need to initiate comprehensive steps to rehabilitate flood-affected people.
"The situation necessitate that instead of indulging in firing and shelling on each other, both India and Pakistan should concentrate on solving basic problems being faced by people in both sides," she said.
She recalled how J&K residents had faced worst situation during hostility between India and Pakistan before announcement of ceasefire on the borders in 2003.
"Common people, particularly those living in the border areas, have been facing the brunt of shelling on the borders and have been frequently uprooted from their hearths and homes," she rued.
Mehbooba said her party has resolved to establish accountable, transparent and corruption free system in the State to provide equal opportunity of growth to everyone.