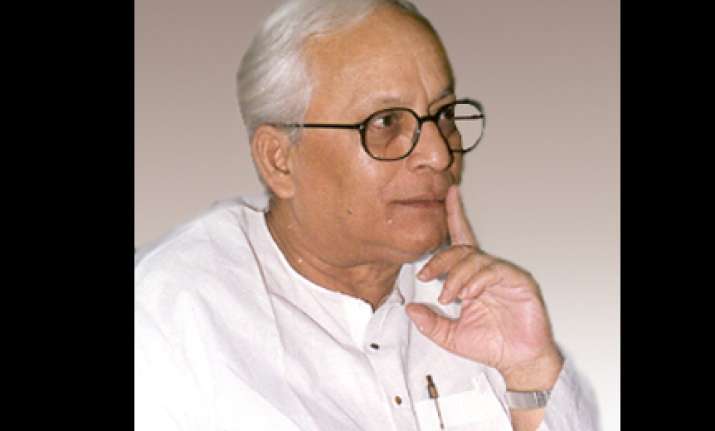 West Bengal government on Tuesday  said there was no evidence of Maoist link against writer Mahasweta Devi or film-maker Aparna Sen, but Trinamool Congress chief Mamata Banerjee pointed out that intellectuals were being targeted by the state and dared it to arrest her. 
"There is obviously no evidence of their links with Maoists. Otherwise, they would have been arrested," Home Secretary Ardhendu Sen told newsmen when asked whether there was any proof of Maoist links against the two intellectuals. 
There was also no evidence yet that PCPA leader Chattradhar Mahato, who was being prosecuted under the Unlawful Activities (Prevention) Act, was a Maoist, he said. 
Mahato also had no connection with the killing of 70 persons in Lalgarh during the Maoist violence there, he said. 
Sen said that Maoist leader Kishenji alias Koteswar Rao would also be arrested though it would be a more difficult task. 
Railway Minister Banerjee, on the other hand, asked "why is (theatre personality) Saonli Mitra and other intellectuals being targeted for supporting the tribal cause? Let the government arrest me too since I support the tribal movement." 
"Support to the tribal cause does not mean supporting Maoists," the TC chief told a local TV channel, renewing her warning that there would be trouble if the government dared touch intellectuals. 
Banerjee demanded that the state Home Secretary and the DGP apologise for dishonouring intellectuals including Mahasweta Devi who had supported the Lalgaarh tribal movement. 
To a question, she reiterated that she had no knowledge if Chhatradhar Mahato had Maoist links. 
"I have no knowledge if Chhatradhar has Maoist links or not. The government should investigate it ... We supported the tribal movement at Lalgarh, but that does not mean we support Maoists."
Mahasweta Devi also denied links with Maoists. 
"I am unaware whether Chhatradhar is a Maoist. Once, he came to my house with a group of women and a TV channel crew. When I was told that the women were Maoists, I drove away all of them, including Chhatradhar," she told PTI. 
Stating that she had, however, met Mahato several times, she said, "in all the meetings, I asked him to campaign against SEZs, or to demand ration cards for the poor." 
The home secretary, meanwhile, said there was 'enough evidence' to proceed against Raja Sarkhel and Prasun Chatterjee, the human rights activists who were arrested last night from Jadavpur area here on charges of having links with Maoists and the PCPA. PTI