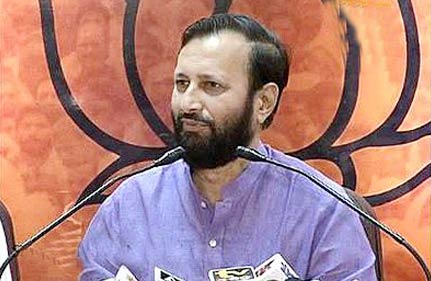 New Delhi, Nov 23: Blaming Congress for the deadlock in Parliament, BJP today said there is "no alternative" to JPC probe into 2G spectrum controversy and the party had no problem if such a Committee is headed by a Congress leader.
"Congress is fully responsible for the impasse in parliament. Because it is not only the BJP which is demanding Joint Parliamentary Committee on issues like 2G spectrum, Commonwealth Games and the Adarsh Society but the entire opposition including Left, Shiv Sena, TDP, AIADMK and other parties are demanding JPC," BJP spokesperson Prakash Javdekar told reporters outside Parliament.
Claiming that the demand was supported by majority of members of Parliament, he said, "Even Congress allies TMC and NCP are also in favour of JPC. Parties like RJD, SP and BSP which are supporting the government are also demanding JPC because there is no alternative to it. The demand is democratic."
The BJP spokesperson said if the JPC chairman would be from the Congress party, "we will have no problem with that".
Taking potshot at the Congress, he said, "It seems Congress does not have any faith in democracy. If Congress believes in democracy then it will form the JPC as demanded by majority of members in Parliament. PTI