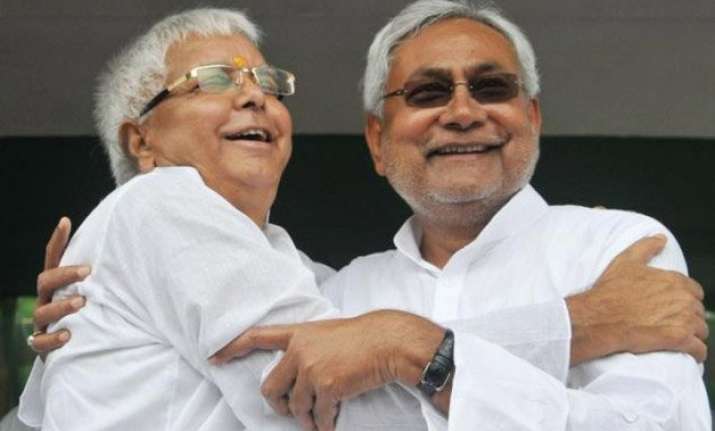 New Delhi: The grand alliance of Janata Dal (United), Rashtriya Janata Dal (RJD) and Congress is expected to get a majority in the upcoming Bihar Assembly elections, a pre-poll survey conducted by ABP News-Nielsen said.
The survey predicted that Nitish-Lalu alliance will get around 129 seats with a strong 43% vote share while BJP-led NDA is likely to get 112 seats with 32 per cent vote share in 243-seat Assembly.
The survey also suggested that CM Nitish Kumar is slightly more popular than Prime Minister Narendra Modi in the state with latter's strong appeal among urban Bihar, Hindus and upper caste.
Owing to a higher appeal among Muslim community, Nitish Kumar was also the preferred choice for the post of Chief Minister. 52% respondents voted in favour of Nitish for the most suitable CM choice with 42% rooting for former Deputy CM and BJP's Sushil Kumar Modi.
As per the opinion poll, the NDA is expected to lead in Bhojpur and Magadh region, while Nitish-Lalu alliance is likely to take over in East Bihar and Mithila region.
In Tirhut, the opinion poll stated that UPA may get around 38 seats while NDA is projected to bag 32.
Overall, around 54% of respondents feel that Nitish should be given one more chance to become CM whereas 44% are against it.
When asked about political parties banking on cast-card, the survey said that 43% respondent feel that JD(U)-led alliance is playing cast-card to win the election compared to 35% who mentioned the BJP-led alliance.
The survey also said 62% of the respondents feel that JD(U)-BJP government's performance from October 2010 to June 2013 was better in comparison with the JD(U) government after Nitish walked out of the alliance.
The opinion poll was conducted in 73 assembly constituencies in the state from July 8, 2015 to July 15, 2015 with 8,854 respondents.
The grand alliance between the RJD, JD(U) and the Congress, was formed after their crushing defeat in the last year's Lok Sabha elections.
The BJP-led NDA alliance comprises Ram Vilas Paswan's Lok Janshakti Party (LJP), Upendra Kushwaha's Rashtriya Lok Samata Party (RLSP) and the Hindustani Awam Morcha (HAM) of Jitan Ram Manjhi.
Assembly polls in Bihar will take place in September-October.