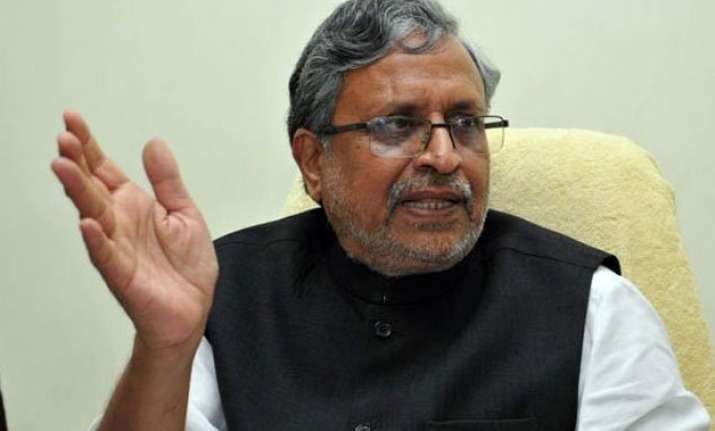 Patna:  The BJP today alleged that Bihar Chief Minister Nitish Kumar and RJD President Lalu Prasad were indulging in "a politics of blackmail" and asserted that it was ready to fight whether they come together or separately.
"Kumar and Prasad are indulging in a politics of blackmail. Prasad is blackmailing JD (U) that he will align with former Chief Minister Jitan Ram Manjhi. Kumar is making RJD apprehensive that he will align with expelled RJD MP Rajesh Ranjan alias Pappu Yadav," former Deputy Chief Minister Sushil Kumar Modi said.
Modi said Bihar Parliamentary Affairs Minister Shrawan Kumar's statement that JD (U) will align with Pappu Yadav if
he accepted Kumar as his leader could be seen in this context.
"The merger effort of Janata Parivar parties has become like a game and the politics of blackmail is happening in its shadow. Both JD (U) and RJD are trying to get their conditions accepted by this," Modi added.
The senior BJP leader said that the party was not worried about the emerging scenario and was ready to fight both the parties whether they come together or separately.
"We are ready for them. Let them do whatever they want a merger, an alliance or none. We are ready to fight them," he said.
Modi, who is also the Leader of Opposition in the Legislative Council, demanded that Kumar appoint 13 more ministers to the state cabinet because development work was suffering.
"Bihar can have 36 ministers, but there are just 23 including Kumar. Thirteen important departments like Agriculture, Energy, Public Health Engineering, Urban Development and Rural Development have been given to ministers as additional charge due to which work in them has virtually stopped," he said.
The saffron party leader charged that the ministers are unable to look after their main departments, hence there was no question of them paying attention to the departments of which additional charge have been given to them.  
"It seems that Kumar is afraid that inducting more ministers will spark rebellion in the party, but I request him to take the measure immediately as it was a question of the development of the state," he added.