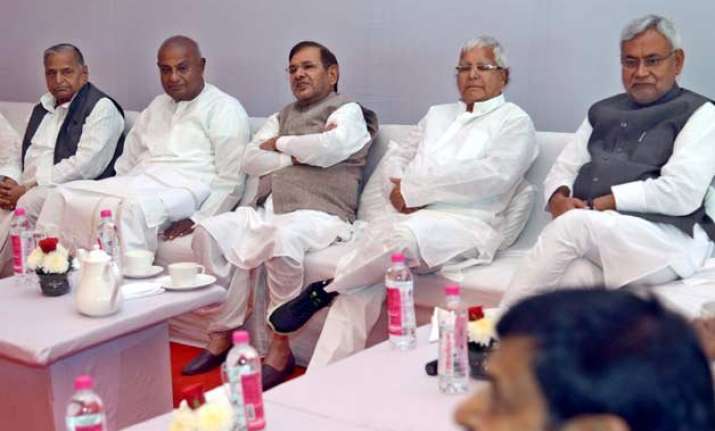 New Delhi: Bihar CM Nitish Kumar will be in Delhi today and is likely to put efforts for the merger of six parties of the erstwhile Janata Parivar.
JD(U) Rajya Sabha MP KC Tyagi said that Samajwadi Party leader Mulayam Singh Yadav has now taken the lead in the talks.
Mulayam is also expected to be in Delhi over the weekend to speed up the discussions. JD(S) leader and former PM Deve Gowda, a representative of the Om Prakash Chautala's INLD and RJD's Lalu Prasad are already in the capital.
Tyagi said that outstanding issues related to a common symbol and name for the party need to be resolved before the merger.
At today's meeting, it is believed that the name of the new political entity and its symbol will be decided. 
"It is likely that the new party will be called the Samajwadi Janata Party, or Janata Dal, with Mulayam Singh Yadav as president," Tyagi said.
On the selection of the symbol for new party, he said that 'cycle' -- which represents the Samajwadi Party -- or the old Janata Dal symbol 'wheel' may be adopted.
Sources said that the announcement of merger could be announced on April 10. 
Earlier it was reported that merger could be announced on Sunday (April 5).
The Bihar CM, however, rubbished the reports saying 'April 5 has not been finalised for announcement of the merger of the Janata Parivar parties and the date will be decided by Samajwadi Party chief Mulayam Singh Yadav who is authorized to see modalities of the merger'.
The six parties involved in merger are Samajwadi Party, RJD, JD(U), INLD, Samajwadi Janata Party and JD(S).
In the Lok Sabha, the SP has five members, RJD-four, and JD-U, JD (S) and INLD two each. In total they have 15 members in the Lower House.
While in the Rajya Sabha, the SP leads the pack with 15 members, the JD-U has 12 and INLD, JD(S) and RJD one each. Their total number in the Upper House is 30.
The merger will have immediate and important consequences for the Bihar polls where the socialists are hoping that the combined might of Lalu Prasad's 'MY', or Muslim-Yadav combination, along with Nitish Kumar's Mahadalit configuration will give them the decisive edge in the polls.