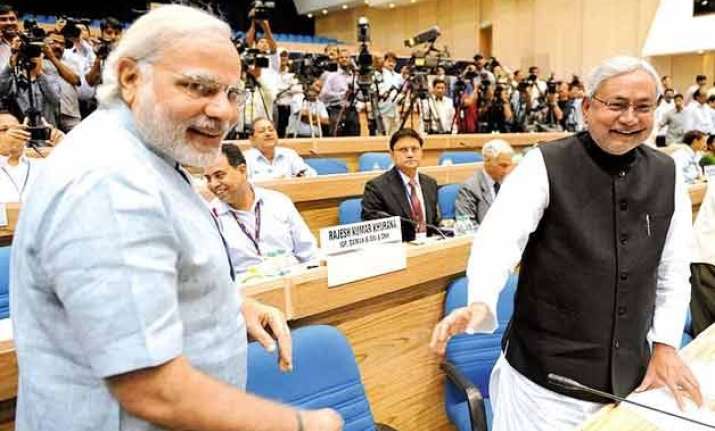 New Delhi: Bihar Chief Minister Nitish Kumar is slated to meet Prime Minister Narendra Modi at latter's official residence -- 7, RCR -- today afternoon at 12:30 pm.  
Kumar is expected to seek more Central funds for the development of state. He will also be submitting an all-party memorandum backing the same to the Prime Minister.
The issue of Special Category Status for Bihar is also likely to figure during the meet between the two leaders which Kumar had been seeking since coming to power for the first time in 2005.
This will be Kumar's first meeting with the Prime Minister since he stepped into office again last month.
Today's meeting holds significance because it comes close on the heels of Janata Dal (United) accusing Modi and top BJP leaders of scripting the rebellion of his predecessor Jitan Ram Manjhi.
As per the schedule, the two will meet once again later in the day when the Prime Minister will be chairing the meet of Chief Ministers of five states to review the measures to clean the Ganga river. This will be the fifth meeting of the National Ganga River Basin Authority (NGRBA). Besides Kumar, CMs of West Bengal, Uttarakhand, Uttar Pradesh and Jharkhand will be present in the meet.
Last month, Modi and Kumar were seen sharing pleasantries with each other at the wedding ceremony of Rashtriya Janata Dal (RJD) chief Lalu Prasad's daughter and Samajwadi Party supremo Mulayam Singh Yadav's grand nephew in a five-star hotel in New Delhi.