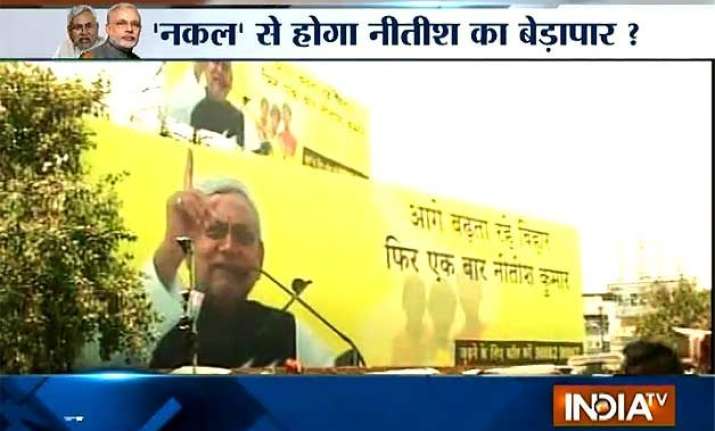 Patna: Bihar Chief Minister Nitish Kumar today began JD(U) campaign for upcoming Assembly elections through a programme called "Har Ghar Dastak" to seek feedback about the work done by the state government in the past.  
As part of the programme, the Chief Minister knocked doors of 10 households in Pachim Darwaza, represented by BJP leader Nand Kishore Yadav, in Patna city area falling under Patna Sahib Assembly seat.
The interactive programme with people was formally launched by state JD(U) President Basistha Narayan Singh at party headquarter in the capital. JD(U) MPs Pavan Varma, RCP Singh and Harbansh were also present on the occasion.  
Starting the programme after offering prayer at Badi Patandevi temple, Kumar knocked the first door of one Krishna Sahu near Paschim Darwaza.
The house members were excited to find him at their doorstep.Kumar talked to the family members if they were satisfied with the work done by his government in the past 10 years and also sought views about work the government should do in the future.
After coming out of Krishna Sahu home, Kumar knocked doors of nine other homes in the vicinity and talked to the family members.
Kumar told reporters that he as a disciplined soldier of JD(U) had started the "Har Ghar Dastak" programme after it was launched by state party chief.
He said efforts would be made to reach out to one crore homes under the programme.State JD(U) spokesman and MLC Sanjay Singh told PTI "Har Ghar Dastak" programme would run in two phases from July 2 to July 11 and from July 21 to July 31.  
He said 10,000 party workers would knock doors of one crore homes and have a "direct conversation" with people on the functioning of the state government.  
Minister for Food Shyam Rajak said he had started the programme in his consituency Phulwarisharif and knocked doors of 10 homes each in Raniganj and Haroon colony.  
"The people appeared satisfied with the functioning of the government," Rajak claimed.