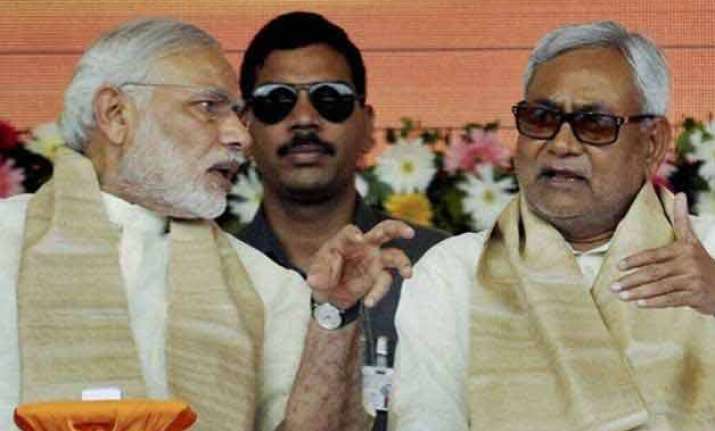 Patna:   In an open letter addressed to Prime Minister Narendra Modi, Bihar Chief Minister Nitish Kumar took strong objection to his DNA  comment about the Bihar Chief Minister  at a recent election rally in the state and urged him to withdraw the statement.
Kumar released the letter this morning on PM's favourite social media platform twitter where the later has a strong 14.2 million following.
Prime Minister Narendra Modi, in his first rally at Muzaffarpur on 25 July, had said  that there was some problem with Nitish Kumar's DNA.
Modi had said," He ( Kumar) not only disrespected me but also disrespected a Mahadalit like Jitan Ram Manjhi... There seems to be some problem in his DNA because the DNA of democracy is not like that. In democracy, you give respect even to your political rivals."
The letter says, "The Prime Minister said there is a problem in my DNA. I'm a son of Bihar, so it is the same DNA as the people of Bihar... I leave it to the people of Bihar how they judge a person who maligns their DNA."
The Bihar Chief Minister is expected to use the letter titled "insult to Bihar" as a key part of his election campaign for Assembly elections in Bihar.  Nitish is  leading an alliance of his Janata Dal (United), Lalu Prasad's RJD and the Congress against the BJP led alliance  in the upcoming  assembly elections.
Nitish Kumar's campaign team for the Bihar elections says the PM's "DNA" comment is their "chaiwallah" moment, a reference to how Mr Modi turned what was meant to be an insult by Congress leader Mani Shankar Aiyar into one of his most successful campaigns for the national election that he swept last year.
Interestingly, the strategy has Prashant Kishor's trademark written all over it. Kishor, who designed Modi's 2014 Assembly campaign, switched over to Nitish Kumar in December last year.
Here goes the open letter written by Bihar CM to PM Modi:
Respected Modiji,
Few days back, while addressing a public rally in Bihar, a comment was made by you about my DNA. The issue has been troubling many of us since then. Now, as you are scheduled to visit the state again, I am writing to you on behalf of those who have felt hurt by your statement. Your words have been taken as an insult by a large section of the people of the state and beyond. Most of us also feel that coming from you, the comment is rather unbecoming of the office you hold.
But, this is not the first time that we have faced this. Earlier as well, your colleague and BJP leader, Mr. Nitin Gadkari had said that "casteism is in the DNA of Bihar". Interestingly, these are the same people who reposed their faith in you and contributed towards electing you to the highest office of the country with an overwhelming majority. Ours is the same state that has been the cradle of civilization and has given birth to some of the greatest icons in history. Needless to say, when such statements are made, it weakens the collective faith of people in your leadership.
I am a son of Bihar. My DNA is similar as that of the people of Bihar. Modiji, as you know, my father was a freedom fighter and my mother an ordinary housewife. I grew up in a humble household in rural Bihar. In my 40 years of public life, I have tried to work for the betterment of people following the ideals of Gandhi, Lohia and JP. Most of us feel that these statements, beyond questioning my own descent, have disrespected the lineage of our people and have denigrated the great legacy of the state. This also gives credence to the feeling that perhaps you and your party hold a prejudice against the people of Bihar. I wonder how come the gravity of such statements repeatedly misses your alert conscience.
Therefore, through this letter, I take the liberty to urge you to please consider taking back these words. I have no doubt that this gesture of yours would go a long way in assuaging the sentiments of the people and would further enhance the respect people have for you.
Yours Truly,
Nitish Kumar