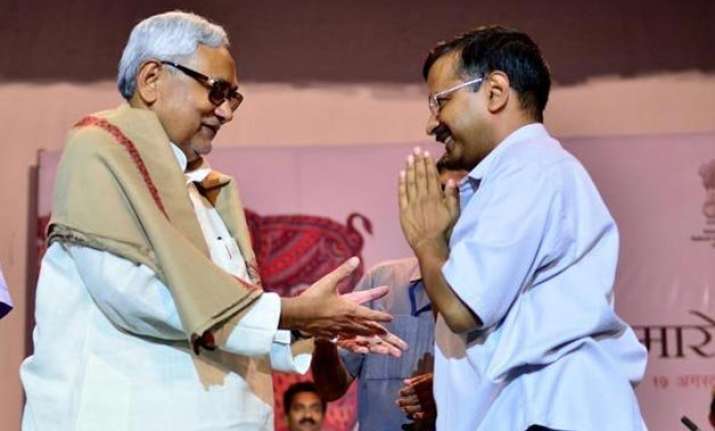 New Delhi: Delhi Chief Minister Arvind Kejriwal today said that he strongly supports his Bihar counterpart Nitish Kumar and urged people to vote for him in the upcoming Assembly polls in the state.
"Some media houses distorting my statement. I fully support Nitish kumar. He is a good person, people should vote him CM," he said in a tweet this morning.
Kejriwal's reaction came in the wake of media reports suggesting that the Aam Aadmi Party (AAP) was not extending support to any political party in Bihar assembly polls.
The Janata Dal (United) had supported AAP during the Delhi Assembly polls earlier this year and also during AAP Chief Arvind Kejriwal's Varanasi fight against Narendra Modi in last year's general election.
Both Kejriwal and Kumar share a personal rapport.
It was believed that Kejriwal's yesterday decision comes in the backdrop of Kumar's ally Lalu Prasad Yadav recently making a number of statements projecting the Bihar polls a fight between 'forward and backward castes'. A section of AAP was also uncomfortable supporting the grand secular alliance because of Lalu's conviction in the fodder scam.
Bihar will have five-phase assembly elections between October 12 and November 5 and counting of votes will take place on November 8.