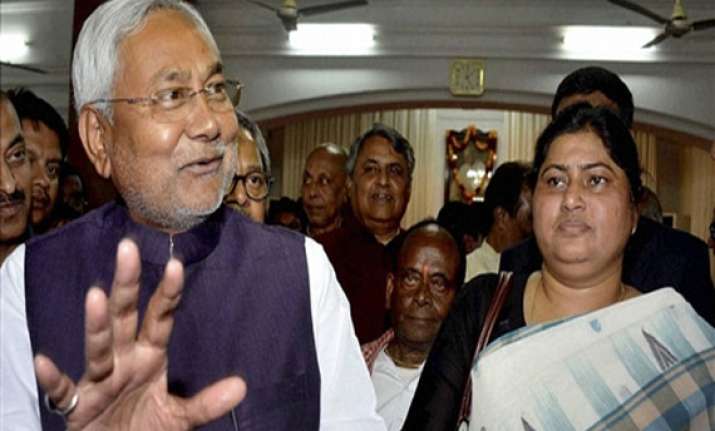 Patna: Bihar chief minister Nitish Kumar today inducted Lacy Singh, MLA from Dhamdaha in Purnia district, as minister in his cabinet, after the exit of Renu Kushwaha.
Governor D Y Patil administered the oath of office and secrecy to Lacy Singh, who originally hails from a poor family.
Renu Kushwaha had resigned from the cabinet and Janata Dal(United) after her husband Vijay Kushwaha joined BJP.
Last month, Parveen Amanullah had quit the cabinet to join Aam Aadmi Party.
With his cabinet devoid of any female ministers, Nitish Kumar hurriedly inducted Lacy Singh.
Lacy Singh won from Dhamdaha constituency first in  2000, then in 2005 and again in  2010 .
Who is Lacy Singh?  She is the widow of dreaded gangster Butan Singh.
Last year, Lacy Singh was involved in a tiff with another JD(U) woman MLA Bima Bharti when both levelled charges and counter-charges over the abduction and murder of Bima Bharti's PA Santosh Mandal on April 23, 2013.
Bima Bharti, a divorcee,  had then alleged that her PA was abducted and killed by her former husband Avadhesh Mandal, a known gangster and MLA Lacy Singh.