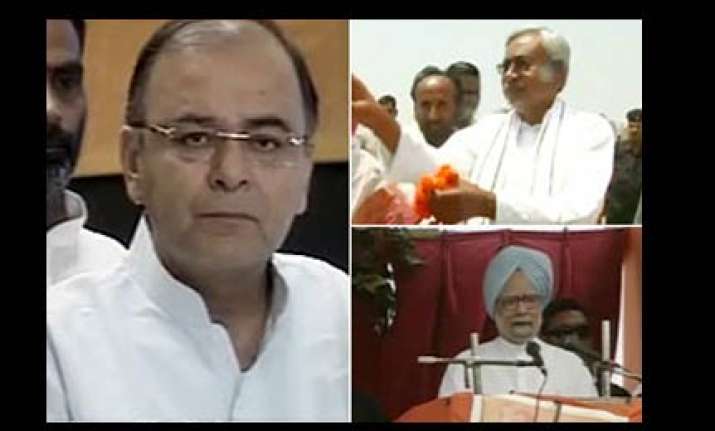 Patna, Oct 17: Accusing Prime Minister Manmohan Singh of adopting "hit-and-run" tactics and misleading people about central assistance to Bihar, Chief Minister Nitish Kumar today dared him for an open debate on these issues.
'I fully respect Manmohan Singh as PM and also leader of the country, though it is a different matter that the former treats another person (Sonia Gandhi) as his leader," Kumar sarcastically remarked while taking a swipe at Singh for his statement yesterday on central assistance to the state.
The chief minister was addressing a press conference jointly with senior BJP leader and leader of opposition in Rajya Sabha Arun Jaitley.
Referring to Singh's charge that the the NDA government had failed to discharge its responsibilities for utilisation of the assistance worth Rs 1000 crore provided by the Centre since 2004, Chief Minister said, "there is no substance in it."
Under the Bihar Reorganisation Act which came into force when Jharkhand was carved out of Bihar, the NDA government had devised a formula for providing special package of Rs 1,000 crore every year since 2002 to compensate the losses incurred by the state with minerally rich areas going to Jharkhand.
Besides, a special cell was created under the Planning Commission when K C Pant was its chairman to monitor utilisation of the assistance, he said.
It was also decided that the central agencies would be tasked with execution of the schemes under the direct control of the Planning Commission following certain objections raised by the erstwhile Rabri Devi regime to the Centre, Chief Minister Kumar informed.
'Subsequently, because of the lack of initiative the release of the assistance got piled up," Kumar said, adding after formation of the NDA government in November 2005, he had relentlessly tried to raise the issue of release of the assistance and engaging the central agencies for completing the schemes in Bihar.
"I even personally persuaded the Deputy Chairman of the Planning Commission Montek Singh Ahluwalia and I express my gratitude that Ahluwalia took an initiative and held a meeting with the central agencies for implementing the schemes with the utilisation of the central assistance," Kumar said. PTI