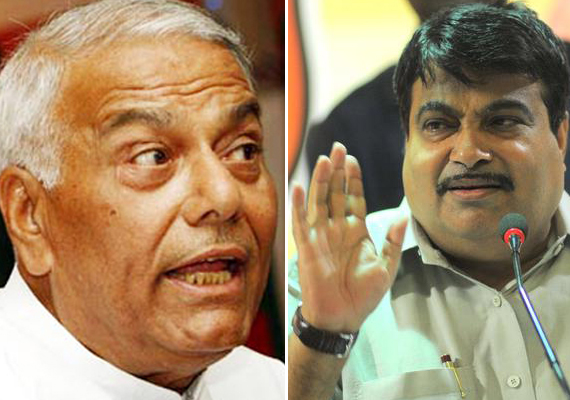 New Delhi, Nov 20: The campaign for the resignation of beleagured BJP president Nitin Gadkari today got fresh ammunition with senior leader Yashwant Sinha demanding that he steps down immediately.
"Whether our party president is guilty or not is not the issue today. The issue is that all of us in public life should be beyond reproach," he told .
Sinha's demand brings alive once again the campaign initiated by BJP Rajya Sabha MP Ram Jethmalani and his son Mahesh for the party chief's resignation in the wake of reports of alleged dubious financing of Purti Sugar and Power Group.
The campaign against Gadkari had appeared to take a backseat after the party backed him in the wake of a clear chit given by auditor S Gurumurthy, who had gone into the balance sheet and accounts of the Purti group.
But its revival may have come at an inappropriate time when the party plans to corner the government on various issues, including alleged scams, in the winter session of Parliament beginning Thursday.
Sinha said he was issuing his statement for Gadkari's resignation with a "great deal of sadness and regret and after exhausting the forums available" for him in the party.
"I am confident that the issue I am raising has merit and I have faith in the wisdom of the party to be able to deal with this issue.
"In fact, it is this faith which kept me from issuing this statement earlier. Unfortunately, despite my best effort the party has been unable to take a decision in the matter," he said.