Follow us on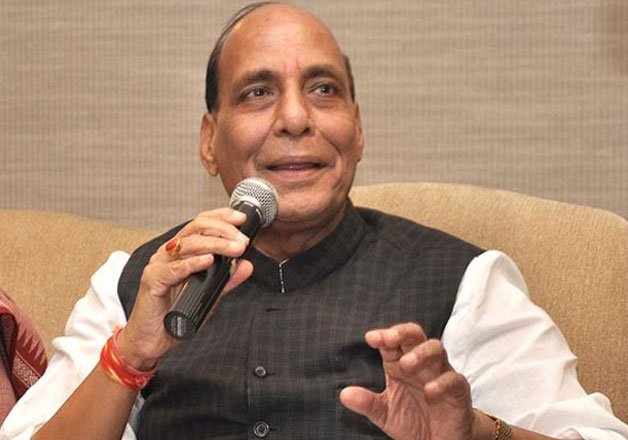 Mathura: Union Home Minister Rajnath Singh on Sunday said that BJP-led NDA would win the Assembly polls in Bihar and form a government.
"After election in Bihar, we shall have BJP-led NDA government owing to hard work of the workers. After Bihar, it would be turn of UP," Singh said addressing party workers in Vrindavan.
He also claimed that the smuggling of cows to Bangladesh has reduced.
"Owing to sincerity of BSF, the smuggling of cows has come down to 8 lakh as against 22 lakh every year. The statement of Bangladesh High Commissioner that beef rate has shot up in Bangladesh is a witness of the aforesaid claim," he stated.
Rajnath also said that India has always tried to maintain cordial relations with neighbours and the invitation to heads of the neighbouring nations for the swearing in ceremony of the Prime Minister Narendra Modi was a proof of that.
He added that no firing would start from the Indian side, but if provoked, there would be retaliation and the number of bullets should not be counted.
Speaking about the development of the country, Rajnath said like Germany and Japan were said to be economic superpowers, India should also be counted as one.
Singh was at Vrindavan to inaugurate the Swami Haridas Sangeet Avam Nritya Samaroh.
Speaking on the ocassion, he said the country stands first on cultural and spiritual ideas and would surely lead the world on these fronts.
"We are trying to make India spiritual teacher of the world. Time would come when India would achieve the goal," he said.
Earlier, Gopi Goswami, organiser of Swami Haridas Sangeet and Nratya Mahotsava presented in detail, contribution of Swami Haridas, the teacher of Baiju Bavara and Tansen, in incarnation of Bankey Behari Ji Maharaj.
The students of Swami Haridas Sangeet and Nratya Academy presented a scintillating performance of Kathak dance on the occassion.