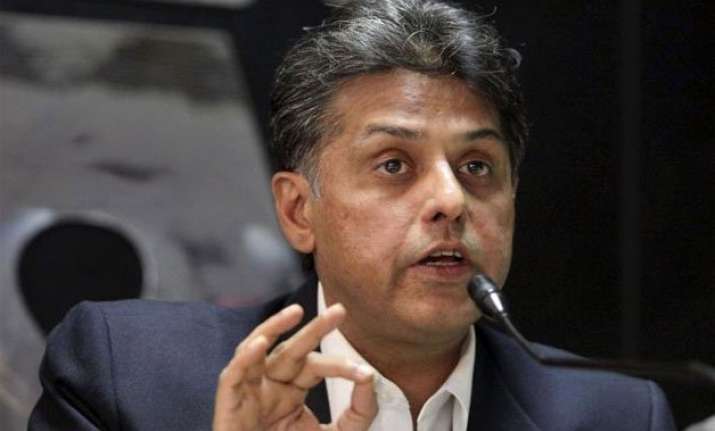 New Delhi: Congress leader Manish Tewari today attacked NDA government here over a Pakistani court's order to release 2008 Mumbai terror attack mastermind Zaki-ur Rehman Lakhvi alleging it happened because the Centre sent "ambiguous" signals to Pakistan on the issue of terror.
Linking the issue with the release Kashmiri separatist Masarat Alam in the Valley last month, Tewari said, "If Lakhvi is walking free, it is because this government wants him to walk free. It is the BJP government which has been showing laxity. What is the message you are sending across the border when you are releasing the likes of Masrat Alam?"
He said that this sends the message "that you do not care as whether a terrorist is behind the bars or he is out in the open."
Seeking to contrast it with the situation during the UPA tenure, the former Information and Broascasting Minister said, "From 2008 to 2014 did you hear of a single instance when Lakhvi was released from jail or even an attempt was made to release him from jail? And the reason for it was that UPA was bringing pressure on Pakistan consistently that we want Lakhvi back to stand trial for the 26/11 outrage."
He alleged that "ever since this government has come.. this is the 10th report of Lakhvi having been released. And this is primarily because government has been sending out mixed and very ambiguous singals to Pakistan.
"And the reason is very clear if you relase Masrat Alam, then Pakistan feels that it has the license to allow Lakhvi to walk free. In a way, this government is responsible if Lakhvi is released."
Congress spokesperson and former Congress Minister Anand Sharma said the question that arises over the order is whether Pakistani administration and prosecutors were sincere or serious about it.
"The perpetrators of Mumbai terror attacks or for that matter all the terror attacks beginning with Lakhvi must be brought to justice. The attack on Mumbai, which led to the killing of hundreds of citizens and also our guests from other countries, is unpardonable.
"Pakistani administration or establishment including its military establishment must hear it clearly that for improving our bilateral engagement and relations, this is a must," Sharma said.
The Lahore High Court today suspended the detention of 55-year-old Lakhvi under Maintenance of Public Order after the government failed to present sensitive records against him in the court.