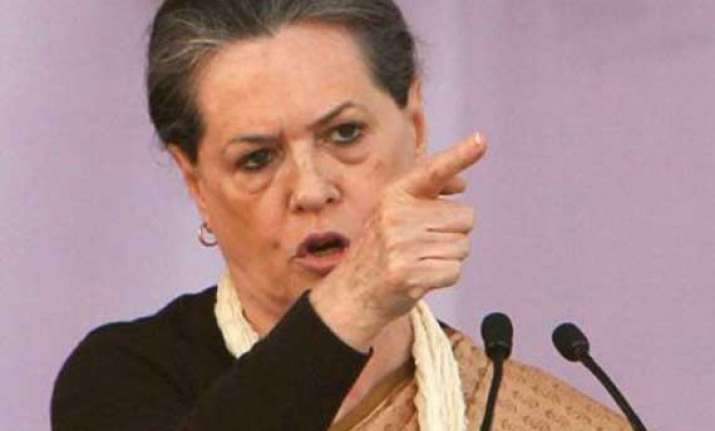 New Delhi:  If Congress president Sonia Gandhi is to be believed then the entire National Herald case, in which both Sonia Gandhi and her son Rahul Gandhi have been issued summons, is an act of 'political witch hunt' by the Narendra Modi-led BJP government.
Speaking to a news channel, Sonia Gandhi said that the Congress will only benefit from this kind of political vindictiveness.
"This kind of political witch hunt will only help us and help us to come back faster to power," Sonia Gandhi  said.
Sonia Gandhi confirmed that the income tax department has served her party notices in this case that alleges that she , her son Rahul Gandhi and other party leaders misappropriated funds of a company that used to publish the erstwhile National Herald newspaper.
A Delhi court had issued summons to Sonia Gandhi and Rahul Gandhi in this case on a petition filed by the senior BJP leader Subramanian Swamy. They have been asked to appear personally in the court on August 7.
Last month, Sonia and Rahul Gandhi were issued summons by a Delhi court in connection with the National Herald newspaper case. They have been asked to appear personally in court on August 7.
The court, in its order, said, "From the complaint and the evidence led so far, it appears that YI was in fact created as a sham or a cloak to convert public money to personal use or as a special purpose vehicle for acquiring control over Rs.2000 crore worth of assets of The Associated Journals Ltd.(AJL).
"Since all the accused persons have allegedly acted in consortium with each other to achieve the said nefarious design, there are sufficient grounds for proceeding against all of them," the court said.
It said the accused Sonia Gandhi, Rahul Gandhi, Moti Lal Vohra, Oscar Fernandes were the office bearers and trustees of the funds of the Congress party and the funds of the party were not the personal property of the accused.
"The funds entrusted to them by the party were to be utilised to advance the purposes for which the Congress party was formed.
These funds could not have been advanced in the form of an interest-free loan to AJL, as no provisions exists in the Representation of the People Acts or the constitution of the party permitting grant of any such loan to a company engaged in commercial activities," the court said.
"The accused, prima facie appears to have committed criminal breach of trust on the existing share holders of AJL as well as against the company," it added.
The court further said that the accused appeared to have cheated the state exchequer as well by claiming tax exemption by showcasing the objective the donations, etc. were sought by the Congress from the people and diverting those funds to commercial purposes.