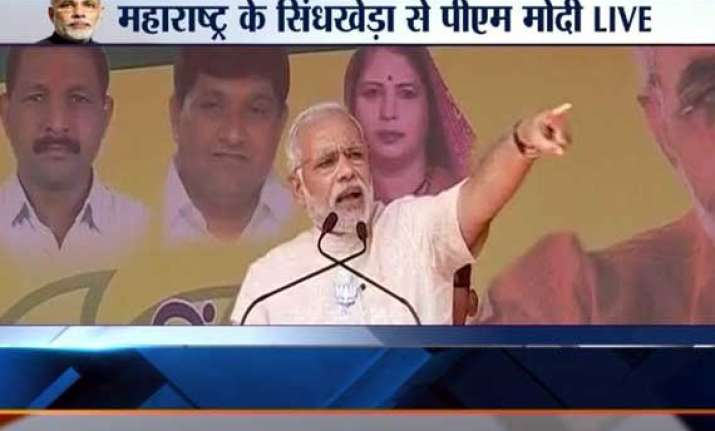 Sindhkheda (Maharashtra):Dismissing opposition charges, Prime Minister Narendra Modi today ruled out splitting of Maharashtra and separating Mumbai from the state.
"Congress leaders have been spreading lies on cotton and onion for the last 10 years. They have started spreading a new lie. They say Maharashtra will be split. Has anyone been born in this country who can divide the land of Shivaji ?" he said addressing a rally in the predominantly tribal Dhule district.
"I assure you that as long as I am in Delhi, no power in the world can split Maharashtra and also separate Mumbai from Maharashtra," he said.
The Prime Minister's remarks come against the backdrop of MNS chief Raj Thackeray reportedly accusing Modi of having a "hidden agenda" to split Mumbai from Maharashtra.  The Prime Minister said Maharashtra is the state that has the capability to drive India's growth and Mumbai is central to that.
Slamming Congress for the farmers' suicide in the last 10 years, Modi urged the people to punish the "murderers" of farmers in the October 15 Assembly elections.  "Press on the lotus button on October 15 and make it the liberation day for the state from 15 years of Congress misrule," he said.
In an apparent dig at Congress Vice President Rahul Gandhi, Modi said he does not need to go the house of a poor person to "snatch" his food for a photo opportunity as he himself came from a poor family.
"I had come amidst you during Lok Sabha campaign. I had requested you to trust me. You believed in what I said and elected BJP MPs from Dhule and Nandurbar," Modi said.  "Now, I have come to you again in four months.  Politicians forget to fulfil poll promises. But I am not a politician. I am your sevak. I am the first servant of India," the 64-year-old leader said.
The Prime Minister said that when 60 months of "our regime will be complete, I will give account of every moment and every paisa.We made promises for development and we will keep them."
"Wait for October 15 (the polling day in Maharashtra).  As soon as BJP government comes to power, we will rectify the damage done to cotton and onion growers due to the wrong policies of the erstwhile Congress and NCP government," he said.
"Unlike Congress, we are not the ones to make false promises," Modi said.
Congress leaders won so many polls on the promise of completing work on the Manmad-Indore rail line but not a single inch of track was laid, he said.
"Did they (Congress) do anything in 50 years? From panchayat to Parliament, they ruled but did not give any account of their 60-year rule," the senior BJP leader said.  "They are such shameless people that they are instead asking me an account of my 60 days. Isn't this injustice?" he said.
"Those who are on the verge of defeat, are bent on spreading canards," Modi said, attacking Congress and NCP.  "The Congress-NCP government destroyed an entire generation in Maharashtra in the last 15 years. No jobs to youth and no security to women, these are their deeds. Farmers committed suicide, despite their (Congress-NCP) being in power in the state and the Centre," he said.
Shouldn't those responsible for deaths of farmers be punished? Will you punish them? Will you vote for lotus and wipe the corrupt? he asked the people.  
"Congress nationalised banks over 40 years ago. Then, Congress leaders said the money in banks should be used for poor. But I want to ask my tribal and poor friends, have you seen a poor person in banks," Modi said.
"We have implemented the PM Jandhan Yojana so that the bank money should be used for poor," he stressed.  "I don't have to snap photos in huts to show I care for the poor. I have come from amidst the poor," Modi said.
 
"We have two doctor MPs (Dhule MP Dr Subhas Bhamre and Nandurbar MP Dr Heena Gavit) here, so the disease of poverty will go away," he told the crowd, beginning his speech in Marathi.
Here we are giving you minute-by-minute updates of Modi's Sindhkheda rally:
11:40- Modi:3700 farmers committed suicide in one year in Maharashtra. Maharashtra will celebrate freedom from 15 years of corruption on 15 October.
11:38-Modi:Under Jan Dhan Yojana, poor people can open account even with zero balance.I don't need to take pictures with poor people, I grew up with them. I belong to you people, thats why my Govt wants to work for poor people.
11:37-Modi:Election fever is making people, who are on the verge of defeat, to speak lies. Such politics went on for 60 years.Corruption was there in irrigation sector, you were supposed to get water but did not. But their bank accounts got filled.
11:35-Modi: After cotton and onion, they have started telling another lie that Maharashtra will be divided! Can anyone do this? They are spreading rumours that Mumbai will be separated from Maharashtra.  Is there anyone born who can divide Chhatrapati Shivaji's Maharashtra? Without Mumbai there is no Maharashtra, without Maharashtra there is no India. I assure you no power will be able to break Maharashtra as long as I am in Delhi.
11:28-Modi: Has Congress ever come and given an account of their work done in 60 yrs? And they are asking me for what I did in 60 days.
11:26-Modi: We never make promises to win elections. We make promises to transform lives of tribal communities.Your reputation is ours. We dont make false promises like Congress.
11:24-Modi: Politicians have the habit of making promises during campaigns and then forgetting them. But I am not a politician. I'm your sevak. I have come back to remind you of the promises I had made to you. I will give a detailed tab of my work.
11:23- Modi begins his speech
After parting of ways with Shiv Sena, the Bharatiya Janata Party (BJP) has changed its campaign strategy by increasing the number of Modi's rallies in the state.
Single phase polling in Maharashtra will be held on October 15. Counting of votes will take place on October 19.