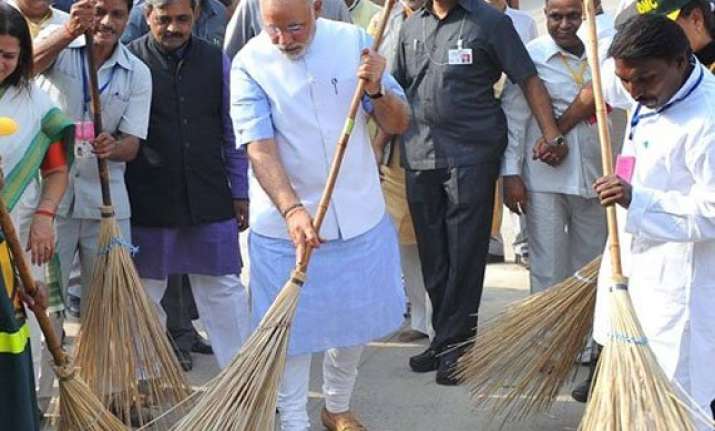 Wielding the broom, Prime Minister Narendra Modi today launched the country's biggest-ever cleanliness drive that is expected to cost over Rs 62,000 crore, asserting that the "Swachh Bharat" mission is "beyond politics" and inspired by patriotism.
"Narendra Modi holds flags as he joins others in a walkathon as part of launching a nationwide cleanup campaign on Thursday October 2, 2014. Modi joined millions of schoolchildren, officials and ordinary people who picked up brooms and dustpans to clean parks, public buildings and streets"
Reaching out the citizens, Prime Minister Narendra Modi took the 'Swachh Bharat' pledge, inviting everyone to participate in the movement and make it a success.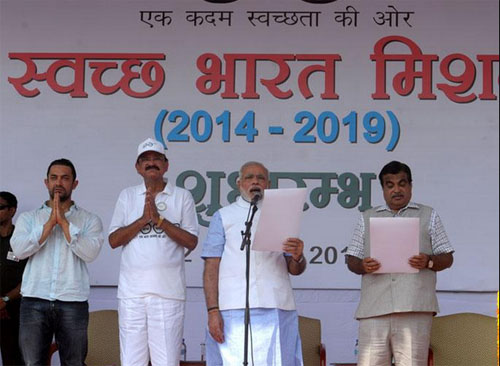 Debunking criticism that his government has been taking credit for every achievement, the Prime Minister acknowledged the efforts of all previous governments to make India clean "I am not talking politics...this is beyond politics.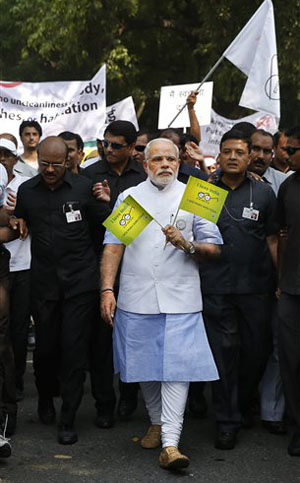 This is inspired my patriotism not politics. We do not have to do with an eye on politics...I say that with a clean heart...  If we paint this again with a brush of politics, we will again do a disservice to mother India.