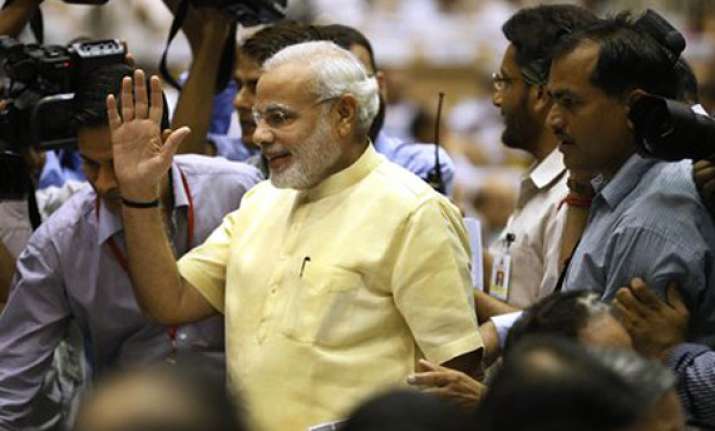 Vadodara, Jun 24: Producer of the Gujarati play 'Aa NaMo Bahu Nade Chhey' (This NaMo creates obstacles) today claimed that the state cultural department asked him to change the title, apparently because NaMo is a popular acronym for Gujarat Chief Minister Narendra Modi.
"We were forced to change original title of this play in Gujarat, after certification authorities of the Cultural Department of Gujarat government took objection, saying under no circumstances they would grant permission to stage it," alleged Sanjay Goradiya, the producer.
The play is "a political satire", he said.
To avert controversy, the title was then changed to 'Aa Namo Nadta Nathi' (this NaMo does not create any problem).
"We have changed the title only for Gujarat," Goradiya said, adding that elsewhere in the country the play would be staged under the original title.
He also clarified that he did not have any problem with the renaming because "it does not make any change to script".
"We will not change the original title elsewhere... It has been receiving overwhelming response in Maharashtra where we have staged more than 75 shows starting from February."
Apart from the cultural department, Goradiya claimed that the Vadodara Municipal Corporation too took objection to the title, as the play was to be staged in the city from June 17 to 21.
Goradiya said nobody had objected initially but problems started after the local organiser of the shows in Vadodara put out advertisements in newspapers with the original title.
Sources in VMC confirmed that local authorities had denied permission to the shows with the original title.
The play is directed by Vipul Mehta and stars Goradiya himself.
The plot revolves around Khaman Morbiwala, his late father Narottam Morbiwala alias NaMo, and Khaman's son Umang. The late father's spirit starts entering Umag's body every evening which leads to complications.