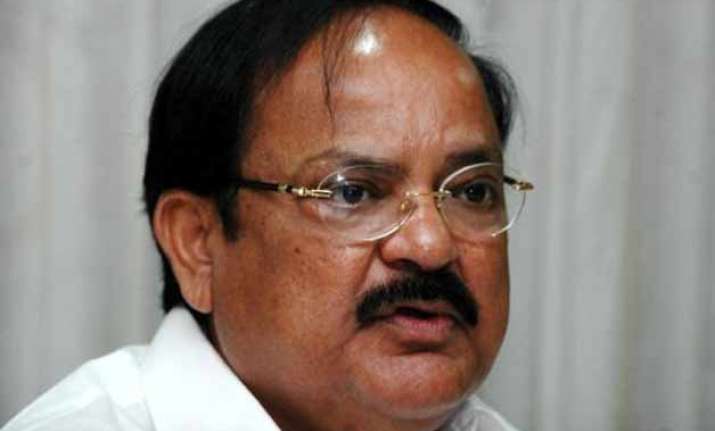 Hyderabad: Launching a counter offensive against Congress vice president Rahul Gandhi for giving the Modi government "zero out of 10" for handling farmers' issues, Parliamentary Affairs Minister Venkaiah Naidu today said "zeroes cannot see beyond zero".
"The entire world is hailing Modi as a great leader, a man of action. GDP rate has gone up, inflation is reduced, and you say zero. Zeroes cannot see beyond zero. Zeroes have no ability to acknowledge heroes," he said.
Asked about Rahul's new-found aggression following his return from a 56-day sabbatical, Naidu said the government was "least worried".
"Rahul has been in politics for 11 years. What has happened? Congress party lost eight states. (It) lost even position of the recognized opposition. They are trying to replace their failures by aggressive words, by making cheap allegations against the government at times," Naidu said.
Forced to refer the land bill to a joint Parliamentary committee by the Congress-led Opposition, Naidu said the government was open to bringing in fresh changes in it provided suggestions were wise and did not alter the basic purpose of the legislation.
"Yes, I am open to changes provided suggestions are made with correct wisdom. I have made nine amendments. Secondly, if there is a meaningful suggestion, let it be considered without altering the basic purpose of the Act," he told PTI in an interview.
Naidu said steps taken by the Narendra Modi government for corruption-free administration, taming inflation, financial inclusion, enhanced focus on social security, pro-active foreign policy, cooperative federalism had replaced the "atmosphere of despair" with one of "hope and enthusiasm".
He identified agriculture, irrigation, insurance and bringing down interest rates as part of the government's agenda for its second year in office. The Modi government completes one year in office on Tuesday.
The senior BJP leader said,"People must understand that the Modi government has inherited issues like Naxalism, cross-border terrorism, a derailed economy and a policy paralysis."
"Within no time we have made a turnaround," he claimed.
Naidu, however, identified high expectations from the NDA government as a major challenge.
"The major challenge before us is that expectations of the people are very high. They are expecting so much. They have that confidence in Modi. They have given that mandate after 30 years. We need to live up to the expectations of the people in each and every sector," he said.