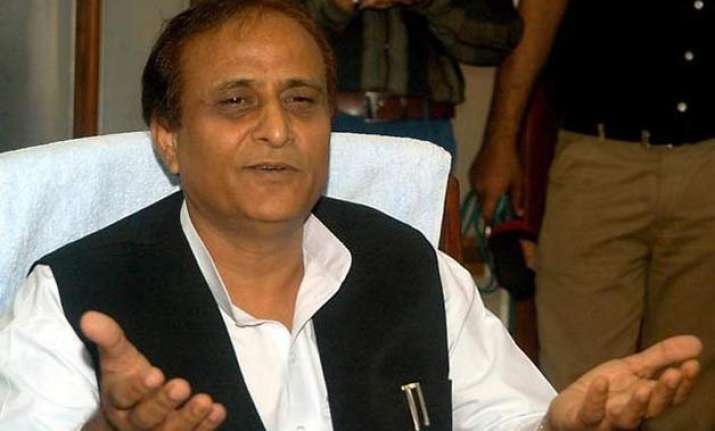 New Delhi: Amidst the debate over rising intolerance in the country, Uttar Pradesh Cabinet Minister Azam Khan on Friday targeted BJP-led NDA Government at the Centre saying that Muslims 'are not the citizens of democratic India but the victims of saffron India'.
Senior Samajwadi Party leader's comment came after Haryana's Chief Minister Manohar Lal Khattar's statement, 'Muslims need to give up beef to live in India.'
Commenting on Khattar's statement, Khan said, "Clearly this is not a nation that is governed by the Constitution. These comments are always created for targeting the Muslims."
"The RSS declared openly that they did not believe in the Constitution after which their lips were sealed. Then they passed comment on Bapu and called Nathuram Godse their hero and went silent again. The Muslims have never demanded cow slaughter, in fact we have said that there should be no slaughter at all even chicken and goats," Khan told a news agency.
Khan added that the agenda behind the beef row is to target Muslims.
"Muslims are being killed and will continue to be killed. Where are we supposed to go, there is no choice. Muslims are leading a very dismal and scared life. Even the UN can't do anything," Khan said.
Defending his decision to take the Dadri lynching case to the United Nations the Minority Welfare and Urban Development Minister of the state said that if he should be charged for being a traitor but so should Prime Minister Narendra Modi.
"Prime Minister Modi has gone countless time to the UN and raised Indian issues. Satyarthi won the Nobel Prize for raising issues. So, they should hang every Indian who has ever gone to the UN, but they won't, because I am a victim." Khan said.