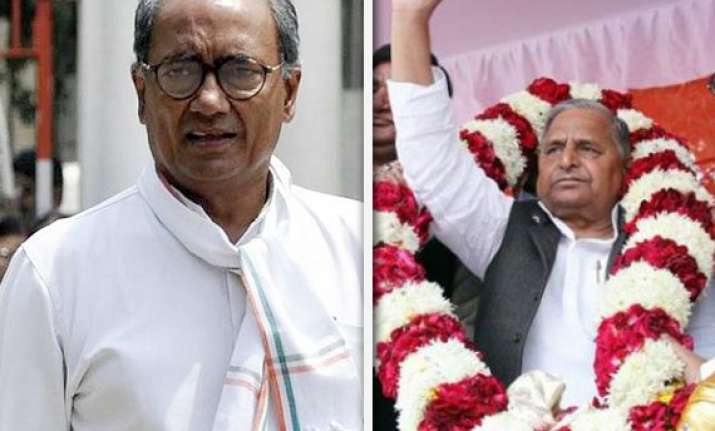 Lucknow, Jan 20: Having a dig at Samajwadi Party chief Mulayam Singh Yadav's pledge of reservation to Muslims in the party's manifesto, Congress today said his party does not have the numerical strength in Parliament to deliver on the promise by amending the Constitution. 

"I think Mulayam Singh Yadav must also realise that giving 18 per cent reservation means amending the Constitution. Can SP, a regional party, with 21 members in Parliament, amend the Constitution"? Congress General Secretary Digvijay Singh told reporters here. 

He said it means 18 per cent reservation would be given when SP would get 300 seats in the Lok Sabha. 

"He is promising but no delivering. It would have been better had he mentioned his achivements as UP Chief Minister," Digvijay said.

The Congress leader said he had researched the speeches of Mulayam Singh Yadav but didn't find even a single comment about Rashtriya Swayamsewak Sangh.

"He not only took a person responsible for Babri mosque incident in the alliance but also made his son a minister in his government," he alleged while referring to former BJP leader Kalyan Singh.

"When Kalyan's son was being made the minister, Azam Khan had no objection but now he has," Singh added. 

Digvijay Singh said Mulayam Singh Yadav had even inducted in SP RLD leader Anuradha Chaudhary who had allegedly said in Muzaffarnagar during the last polls that Muslims were Talibanis.

"Mulayam always keeps a door open for the support of BJP," he alleged.

Digvijay Singh said BSP supremo and UP Chief Minister Mayawati wrote a letter to the Prime Minister on Muslim reservation when she could have done that on her own in the state.

"There is reservation for 27 per cent for OBCs in which backward Muslims are also included but they were not getting the required benefit," he said.

Digvijay said that by earmarking 4.5 per cent in OBC qutoa, the Centre guaranteed that they get the benefit.  "Even states can do this sub-categorisation," he said,  adding there was a thought that if the party is voted back to power in UP, then sub-categorisation would be done here as well.

The Congress leader said this was not a new reservation and no one's right was being curtailed.

"Rights are being given to those who were deprived till now," he said.

Digvijay Singh alleged that when the Mandal Commission was announced by the the then Prime Minister V P Singh, BJP had withdrawn support which led to the fall of the government at the Centre.

"BJP, which is now showing sympathy with OBCs, must say what were the reasons for which it let the government fall," he said.

The Congress General Secretary said when UPA came to power the PM constituted the Sachar committee. 

"When its report came, then it came to the fore that there were a number of Muslims, whose socio-educational condition was worse than Dalits and tribals," he said. 

He said that after this, the Minority Affairs Ministry was set up, scholarship scheme launched and a proposal for reservation given.

"During Congress governments in Kerala, Karnataka and Andhra Pradesh, reservation for minorities was given, which still continues," Digvijay Singh said.

He said it was wrong to say that the Sachar committee report was not implemented as a number of schemes were launched by the Centre.

On NRHM scam, he said layers after :layers were being exposed but so far only smaller fishes like ministers, officials and contractors have fallen into the net".

He alleged so much money was given but it was misutilised by UP governmet.

"The results would have been better had the money been utilised to purchase equipment to check disease like encephalities in Gorakhpur and Maharajganj," he said. 

On SP promising laptops to students if voted back to power in polls, he said "it's better late than never". 

"Mulayam Singh Yadav was strongly opposed to introduction of computers by Rajiv Gandhi. It's good that better sense has prevailed due to influence of a young leader Akhilesh Yadav," he said.