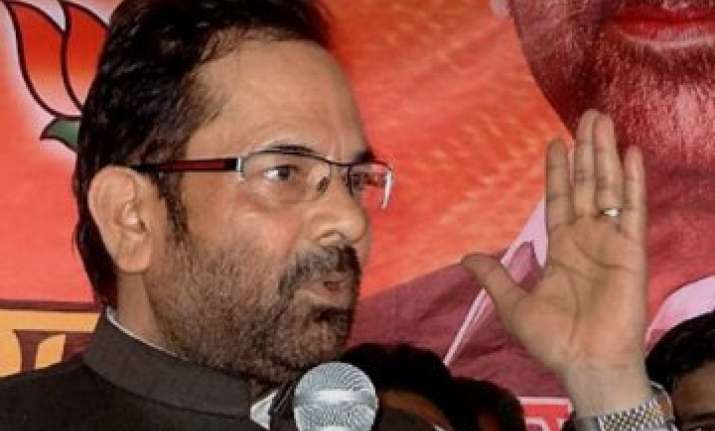 Chandigarh: Exuding confidence that the BJP will form the next government in Haryana on its own, senior BJP leader Mukhtar Abbas Naqvi yesterday said that time has come to rid the state from the "malgovernance" of Congress.
"Today, it is Gandhi Jayanti and in entire country 'Clean India' campaign was launched, in which people from all walks of life took part. In Haryana, there is a big responsibility, which is to put Congress' malgovernance and corruption into dustbin," Mr Naqvi told reporters after releasing the party's poll manifesto for the October 15 Assembly polls.
"We don't treat it as just a manifesto, but it is a document of our commitment to provide good governance to the people of Haryana. When we say this, we say that time has come to end ten years of malgovernance and corruption of the Congress," he said.
BJP will get a clear mandate and will usher in "development, prosperity, security... it is a golden chance which people of Haryana have accepted (to bring BJP to power)", he said.
     
Hitting out at the Congress' poll manifesto released yesterday, Mr Naqvi said, "I read Congress' manifesto, they have failed to even list out ten real achievements of theirs during past ten years of rule."
    
When asked as to why the BJP was not declaring its Chief Ministerial candidate in Haryana, Mr Naqvi said, "at many places we fight the polls by announcing the CM candidate while at some other places we don't. One thing is clear that we are forming the government in the state."
On some TV surveys which do not predict BJP's clear majority, he said, "going by the ground reality, BJP is forming government in Haryana with clear majority and Chief Minister of the BJP will take oath once the results are announced".