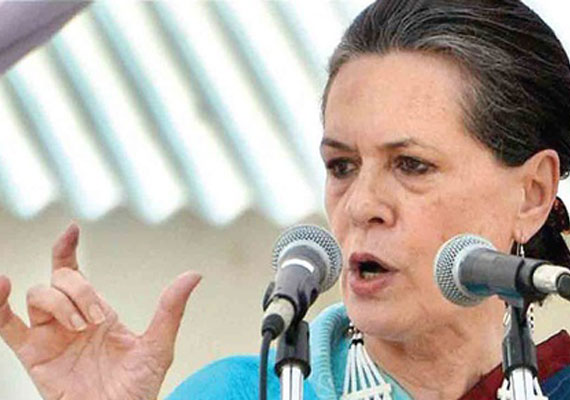 Khargone(MP):  Congress President Sonia Gandhi today lashed out at the BJP saying that some of their leaders are "daydreaming about power" nowadays.
Addressing an election rally here, Sonia Gandhi said, "BJP leaders make hollow promises, instigate people and trumpet their achievements. Some of them are even daydreaming about "kursi" (power) nowadays. For "kursi", they are even fighting against each other".
"If these BJP leaders think that by making fanciful oratory (lacchedaar batein), they can win the hearts of the people, then they are misguided", the UPA chairperson said.
"India", she said, "is a nation with diversities. India is the name of a thought, India represents Ganga-Jamuni values and traditions, India represents brotherwhood, restraint, mercy  and forgiveness. These leaders can't understand such a vision of India, and can never understand".
"For their selfish interests", Sonia Gandhi said, "they can pit brothers against brothers, make them enemies". She cautioned people to beware of such parties and leaders.
Hitting out at the
Shivraj Singh Chouhan
government in Madhya Pradesh, the Congress president said the state Lokayukta had charges against 13 of Chouhan's ministers.
" What action have they taken against these ministers? No action were taken", said Sonia Gandhi.
The Congress president alleged that in the name of distributing cheap fertilizers and seeds to farmers, the MP government was colluding with BJP leaders.
"From where do the farmers in MP get fertilizers and seeds? From the shops of BJP leaders", Sonia Gandhi said.
The UPA chairperson also alleged that MNREGA benefits were not being given to poor people. "They are disbursing MNREGA funds to machines and thekedaars (contractors)", she said.
She alleged there were nearly 20,000 schools in Madhya Pradesh with single teacher, and thousands of primary health centres and hospitals have very few doctors to treat the poor people.
The Congress, she said, does not make hollow promises. We have promised the people of Madhya Pradesh to provide one free power connection to each family living below poverty line, and will give all benefits of forest produces to the tribals, she added.
Sonia Gandhi said, a wave of change is clearly visible in Madhya Pradesh. She exhorted the voters to come out in large numbers and bring back Congress to power.