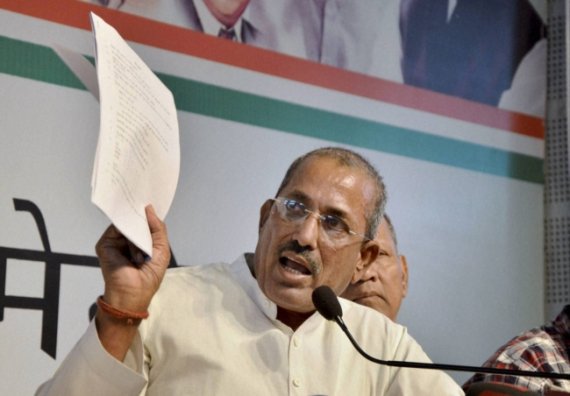 Bhopal: Leader of Opposition in MP Assembly Satyadev Katare today alleged that despite the Union Home Ministry directives, the state government has failed to provide information, which he has sought on various "recruitment scams".
"Between January and June 2014, I wrote 26 letters to Madhya Pradesh Chief Minister Shivraj Singh Chouhan, seeking information on the scam in recruitment of Transport Constable by ; appointments made by the MP Public Service Commission and different posts filled through MP Online Ltd. However, Chouhan did not respond to a single letter," Katare said in a press conference.
"I had also written similar letters to the President, Prime Minister, Union Home Minister and the Union Home Ministry has directed the Chief Minister to reply to my letters, but to no avail," the Congress leader added.
Katare said the Congress Legislature Party (CLP) has also sought this information from the government.
"Chouhan can reject CLP's demand in this regard for political reasons, but he cannot ignore the directives of the Union Home Ministry," he said.
Referring to the alleged scam in Transport Constable exam conducted by the Madhya Pradesh Professional Examination Board (MPPEB), Katare said he has sought the class X marksheets and police verification reports of the candidates from the government, which it was yet to provide.
Katare had earlier announced that if the government did not provide the information by October 25, he would stage a sit-in before the Chief Minister's residence here. However, he said he had to postpone the agitation till the first week of November due to some other personal commitments.
Meanwhile, Madhya Pradesh BJP president Nandkumar Singh Chouhan criticised the opposition party saying, "Since the Congress has no agenda left in the state, it is levelling baseless allegations as part of a conspiracy to defame the BJP government.