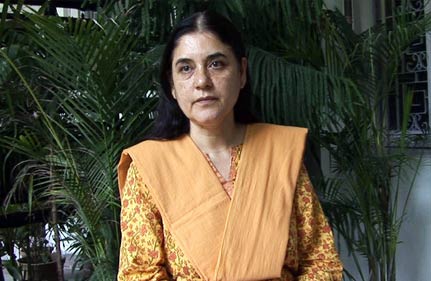 Badaun: Senior BJP leader Maneka Gandhi has claimed that barring a few ministers all others in the UPA government face serious corruption charges.
"Barring a couple of ministers, the remaining are busy amassing wealth through corrupt means and are facing various charges," the Aonla MP said citing the number of scams that came to light recently.
Gandhi told reporters last night that the present government at the Centre was not interested in the welfare of common people.
"In the earlier times people used to feel ashamed when such cases were highlighted but it is not the case in the present times," she said referring to the raging controversy over allocation of 2G spectrum.
On the Adarsh housing society scam, she claimed that though the chief minister of Maharashtra had to relinquish his post, the deputy chief minister was not asked to resign although he has three flats in it.
The former union minister advised Yoga guru Baba Ramdev against joining politics saying that he would be devaluing himself by doing so.
"The country needs him as yoga guru and such people should not enter politics, " Gandhi added. PTI