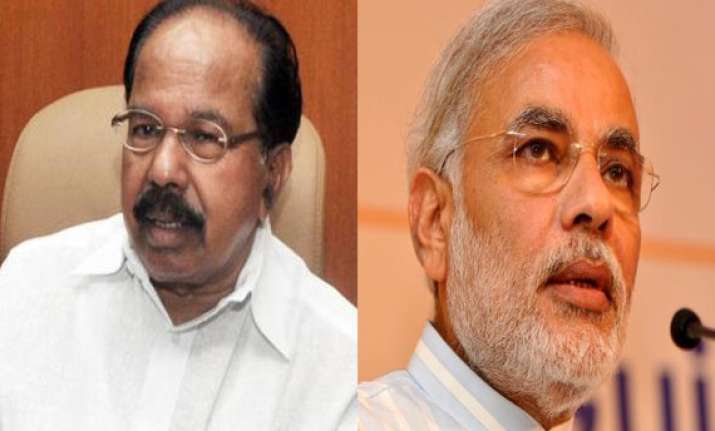 Bangalore: Referring to infighting in BJP over denial of ticket to its senior leader Jaswant Singh, Congress leader Veerappa Moily today launched a veiled attack on Narendra Modi, saying the saffron outfit wants to have a one-man party.
"Denial of ticket to Jaswant Singh ... demonstrates ... they want to have one-man party which is not in keeping with the democratic impulse of this country," he told reporters here.
"There is no presidential system of government in the country and one-man party system is an assault on parliamentary democracy. These are not good developments in a political party," he said.
"Vasudhaiva Kutumbakam is the culture of India but the BJP is negating this," Moily said On gas price controversy raked up by AAP leader Arvind Kejriwal, the Union Petroleum Minister said, "Mr Kejriwal, he can bite anybody on the street, whoever comes across ...  Reliance is only a minor party, only 10 or 11 per cent. If you are making an allegation it is absolutely without any ground.  It is malicious ..."
The AAP government had ordered an FIR to be registered against Reliance Industries chairman Mukesh Ambani and him for alleged irregularities in the KG gas basin issue.  
Attacking Kejriwal, Moily said the former Chief Minister could not govern Delhi for two months also despite the support of Congress party. "I have a great history fighting against vested interests. I fought against liqour and education lobbies. Kejriwal should know," he said.