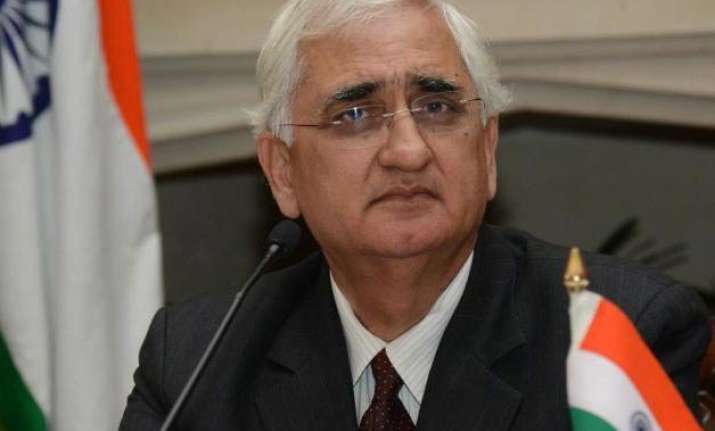 New Delhi: Congress leader Salman Khurshid today attacked the Narendra Modi govermemnt over the recent communal incidents in the country saying the Prime Minister should either admit to not being strong enough to stop it or being complicit.
Khurshid, who has just released his latest book, 'At Home in India - The Muslim Saga' - said the minorities don't have to fear but have to be "vigilant" under the Modi government.  Noting that Modi has always projected himself as a strong person, Khurshid said "either Modi is not that strong as he make himself out to be or that Modi, is strong or not strong, complicit in what is happening".
He further added that if Modi claims to be strong, he must explain why the attacks were happening.  "And if it is happening, and he can't stop it, then he must either admit to not being strong or admit to being complicit," Khurshid said in an interview to PTI here.  Pointing out that India is not Gujarat, he said, while Modi would have gotten off in his home state, he can't repeat the same in the entire country.
"The game that he played in Gujarat was I am not responsible. I had tried my best but people provoked violence and therefore, violence has happened (Gujarat riots). That may have worked for him in Gujarat but is not going to work in rest of the country," he said.
Without mentioning the incident of burning of train in Godhra that led to riots in 2002, Khurshid said there is less conditions now like the "immediate situation in Gujarat that made people think in a particular manner".
Asked if a fear psychosis was creeping into the minorities, Khurshid said he hopes not.  "There is no need to fear. There is a need to be vigilant but I don't think there is need to fear in this country because this country is not made up of government alone," he said.
Congress leader said India has a large number of very sensible, balanced and very secular people.  "And as long as those people are there, I don't think any section, including Muslims, need to fear."
Heated exchanges were witnessed in Lok Sabha between Opposition and Treasury benches this month over the "rising number" of communal incidents, as opposition accused the BJP of creating an atmosphere of "religious intolerance" despite Prime Minister Modi's assurance to minorities.  
Meanwhile, optimistic that Congress will win back the confidence of the people, he refused a direct reply to a question about Rahul Gandhi taking over as Congress President.  
Pointing out it was Rahul Gandhi's decision to go ahead or not, he said, "For me, Sonia Gandhi is my party President.  Then comes Rahul Gandhi and Manmohan Singh. If Rahul in future needs any one of us, we will be there to support him".