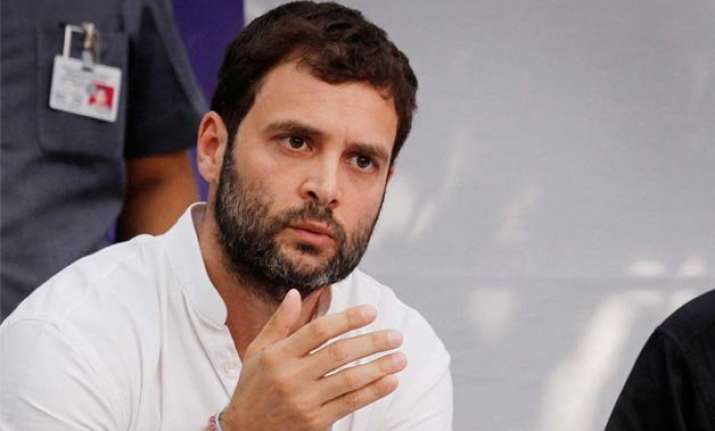 Benipatti/Kishanganj: Hitting back at Prime Minister Narendra Modi over his "three idiots" barb against the grand alliance, Rahul Gandhi today said Modi is making such remarks as he is sensing "defeat" in Bihar polls.  
"Modi ji is seeing his defeat in Bihar. That is why he calls the grand alliance a 'shaitan' and 'three idiots'. But he is the Prime Minister of the country and such language does not behove him," the Congress Vice President said, addressing a rally here as electioneering enters the final two phases in Bihar.
On Tuesday, Modi had launched a blistering attack on the grand alliance, likening it to "three idiots", and hit back at Nitish who a day before parodied a song from the popular movie to attack the PM.
The Prime Minister had also advised the JD(U) leader to perfect the art of "Mushaira" and practise it at leisure after the Bihar polls.
Calling PM 'sahab', Rahul Gandhi who has frequently been attacking Modi government as "suit boot ki sarkaar', accused him to making only big promises to the poor without delivering on them.
"Your jumlas do not quench the hunger Sahab, the plate of the poor is empty. You are not being able to control the prices of 'dal-roti' and you are making big promises to people in election meetings. People will not fall in the trap of your jumlas and promises this time," he said.  
Alleging that Prime Minister's "remote control is in the hands of RSS", he said that Modi also had a "plan B to pit one Indian against the other".
"But this plan has also badly failed in Bihar," he said advising the Prime Minister to "stop telling lies and start working for the people of the country like Nitish ji is doing".
Addressing the rally in Kishanganj, he said that the leaders of NDA have lost cool seeing the victory of the grand alliance in Bihar.
"Let me tell you that our government will be a government for the people and not a one belonging to the capitalists and people with suit-boot," he said.  
Rahul Gandhi was scheduled to address three rallies in Madhubani, Kishanganj and Katihar today.  Party chief spokesperson Randeep Surewala had earlier also taken a dig at Modi over his 'three idiots' barb.  
"Thanks to Modi ji for comparing JDU-RJD-Congress alliance with 'Three Idiots' film. Our alliance will be a success like the film," he had tweeted.