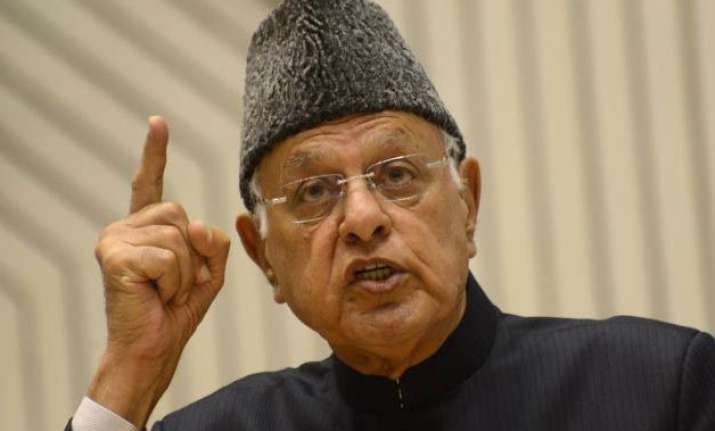 Jammu: Former chief minister and National Conference patron Farooq Abdullah today sought Prime Minister Narendra Modi's intervention to rein in those engaged in increasing incidents of intolerance, saying that such acts were a threat to the unity and integrity of the country.  
"They (some elements) are trying to break India. Instead of uniting India, they are doing such acts. It is threat to unity and integrity of India," he told reporters here.
On the increasing incidents of "intolerance", he said, "I want to request Modi that he should give stern warning to the people sitting with him or he should throw them out of the government because India cannot tolerate it."
"Such acts can defame our country. Does he think that Shiv Sena is greater than India? He should tell Sena not to do such acts defame India. I also urge Sena leadership not to do such acts, which will bring disrepute the country," he said.  
On protests by Shiv Sena workers at the BCCI headquarters in Mumbai over proposed talks for resumption of cricketing ties with Pakistan, he said, "Do not defame the country by such acts. What will happen by holding a meeting? We have not taken any decision with Pakistan. Pakistan is our neighbour.  
Sports is different from politics. Do not connect the two." Referring to the statement made by former prime minister Atal Bihari Vajpayee that friends can be changed but not neighbours, he said, "We can either choose to live with our neighbours on friendly terms and progress, or stop our movement of progress by severing ties with our neighbours".  
On trucker Zahid's death, Farooq said, "This government must take stern actions against those behind the attack.  
Slapping Public Safety Act (PSA) is not going to help. They should be slapped with more serious charges and punished."
"Second, this government should help the family of Zahid in the same manner just the way UP chief minister Akhilesh Kumar helped the kin of man lynched in Dadri."